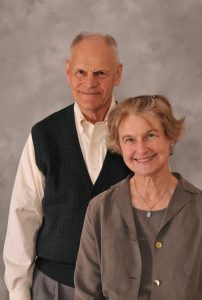 The A. E. Seaman Mineral Museum announced the generous donation of a collection of minerals from Richard and Bonnie Robbins. Richard graduated with a bachelor's in mechanical engineering from Michigan Tech in 1956. He assumed leadership of the Robbins Company, specializing in tunnel-boring technology including boring of the "chunnel" beneath the English Channel. Michigan Tech has recognized Robbins for his professional achievements and university engagement, including the Board of Control Silver Medal in 1990, Distinguished Alumnus Award in 1994, Honorary Doctorate of Engineering in 1996, National Campaign Chair for the 1999-2002 Leaders in Innovation Campaign, which raised $135 million, and the 2001 Melvin Calvin Medal of Distinction. Robbins and his wife Bonnie have established the James S. Robbins Endowed Scholarship in honor of Richard's father and three endowed faculty chairs, the Robbins Chairs of Sustainability.
Richard Robbins had a passion for collecting smoky quartz crystals. His collection includes outstanding specimens from classic smoky quartz localities in the Swiss Alps including a high-quality clear smoky quartz crystal rising off white quartz from Uri, Switzerland. Another particularly notable specimen is a dark smoky quartz crystal with a white cap and fibrous tourmaline from Senora, Mexico. His collection includes multiple smoky crystals from Brazil with one large crystal showing hopper growth, as well as crystals from Himalaya, California, Montana, Pakistan, Tunisia, Arkansas, and New York. A large cluster of smoky quartz crystals on microcline from Colorado was still on display in the lobby of Robbins Company before the collection was shipped to Michigan Tech this past summer. This specimen is now on exhibit at the museum.
In his youth, Robbins spent lots of time prospecting for his father in Alaska. He recounts collecting jade from "Jade Mountain" in the Baird Mountains of the Brooks Range just north of the Kobuk River drainage in Alaska. In addition to the smoky quartz collection, Richard and Bonnie donated 275 lbs of Alaskan jade to the museum. The smoky quartz and jade represent significant additions to the museum's collection. "I'm particularly pleased that the museum can preserve the legacy of Richard's passion for minerals," says Ted Bornhorst, executive director of the museum.
By the A. E. Seaman Mineral Museum.