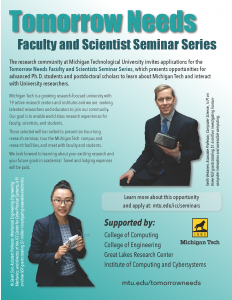 A seminar series to bring advanced PhD students and postdoctoral scholars to Michigan Tech has been launched by the Institute of Computing and Cybersystems, in partnership with the College of Computing, the College of Engineering, and the Great Lakes Research Center. The Tomorrow Needs Faculty and Scientist Seminar Series is intended to build connections with up-and-coming researchers, recruit and retain top talent at Michigan Tech, and provide opportunities for these promising scholars to learn more about Michigan Tech and the University's excellent resources for research and education.
Those selected will be invited to present a research seminar, tour the Michigan Tech  campus and research facilities, and meet with faculty and students.
Applications to nominate scholars from around the globe are sought from all areas of the university. Nominations of advanced PhD candidates and postdoctoral scholars currently at Michigan Tech are also encouraged.  Find the online nomination form at  mtu.edu/icc/seminars. In the near term, applications will be reviewed as they are received, with a more formal review process to be instituted in the near future.
"Recruiting and retaining talented faculty and researchers is essential for Michigan Tech as we pursue the growth strategies identified by Tech Forward and the University's leadership team," says Adrienne Minerick, dean of the College of Computing. "We have an abundance of excellent teaching and creative research at Michigan Tech that complements a terrific quality of life here in the Upper Peninsula. This seminar series will showcase our top-notch people, facilities, teaching and research support infrastructure, and the Houghton/Hancock area to talented new PhDs and post doctoral researchers."
Tim Havens, the William and Gloria Jackson Associate Professor of Computer Systems and director of the ICC, stresses that the seminar series is open to all University areas. "The need to attract and retain top-tier faculty and researchers is a challenge shared across campus. We welcome nominations from all units. We are also very open to adding new partners to this initiative."