Daily team meetings are short 5-10 minute meetings that happen each day for a work unit, area or department.  They are quick, to the point meetings, used to bring forth challenges, roadblocks and safety concerns in semi-real time.  At meetings and immediate response of coordinated effort can be made to tackle such challenges and problems. 
Common Characteristics of Daily team Meetings
Standing meetings (keeps topics quick and to the point)
All members participate, some methods include: round robin, last to arrive speaks first, pass a token around
Occurs at the same spot each day, usually at the gemba (where the work is done)
Agenda: what happened yesterday (problems?), todays hot topics, areas for improvement
Begin and end on time – even if someone is late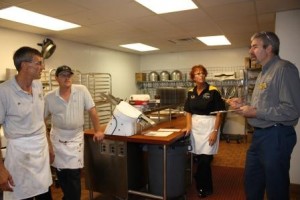 This is a picture from this morning's Wads Bakery daily team meeting.  There were no problems for the day, the hot topic was a new type of sugar cookie graphic that was being used to display the Rozsa logo for cookies that will be sold at the Rozsa Center's performance of Momix: Botanica this weekend.