This summer I had the great fortune of being a mechanical engineering intern at Massachusetts Institute of Technology (MIT) Lincoln Laboratory. While in Cambridge, John O'Donnall, Executive Director of the Lean Enterprise Institute (LEI), was kind enough to reach out to me and invite me to visit the office. Mr. O'Donnall and I had the chance to meet on campus last year when he was the keynote speaker at the 2015 facilitator graduation.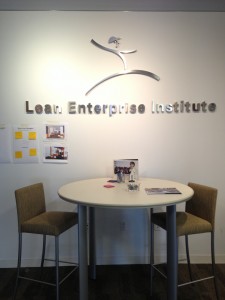 While there it just so happened that they were also having a guest speaker come in and talk about Lean in the civil engineering world and how much waste happens at construction sites because the main currency is the amount of time it takes to complete a project. Although I had to leave before the whole event was over I found her talk to be very interesting. It really opened my eyes to the need to integrate Lean practices into the civil engineering world the way mechanical engineering has integrated it into manufacturing. Below is a picture of the talk from an outside view.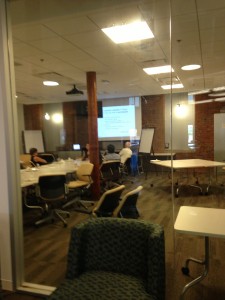 I also got to meet with James P. Womack the founder of the LEI, as well as some of the M.B.A. summer interns who were in the office. Every summer the office hired a few M.B.A. students from the area to work with them and learn in an immersive experience about Lean principles. John O'Donnell and I mused about the possibility of bringing in Michigan Tech M.B.A. students on as summer interns and I think that it could be a mutually beneficial experience for both parties.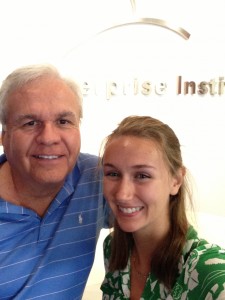 Before leaving John showed me around the office and I was pleasantly surprised with how much our own Office of Continuous Improvement here at Michigan Tech resembled the Lean Enterprise Institute. A picture of their office can be seen below.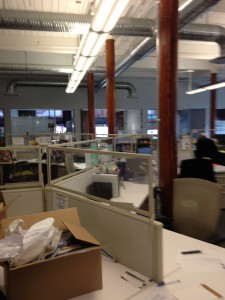 I had a great experience there meeting up with Mr. O'Donnell, Mr. Womack, and meet some of their M.B.A. summer interns.