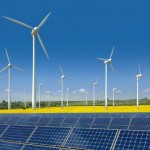 More than a dozen Michigan Tech faculty members and researchers have gone on the record in support of a ballot initiative designed to give a big boost to the state's renewable energy industry. If passed by the voters in November, the initiative would require that 25 percent of Michigan's electricity be generated using renewable energy sources by the year 2025. A July 19 letter released by the Union of Concerned Scientists supporting the measure garnered more than 140 signatures from scientists and academics throughout the state, including 15 from Michigan Tech. Among the signers is associate professor Joshua Pearce.
Michigan Tech Faculty, Researchers Endorse Michigan's 25% by 2025 Renewable Energy Initiative
Read more at Michigan Tech News, by Marcia Goodrich.