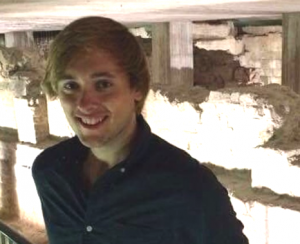 Why would someone put acceptance to a prestigious law school on hold to spend a year in Germany?  That's just what Russell Lawson did, and he doesn't regret a minute of it.
Lawson, who earned his Bachelor of Science in Mathematics with a minor in economics at Michigan Technological University in 2016, has been accepted into the University of Michigan Law School, but he chose to spend this year participating in the Congress Bundestag Youth Exchange program.  In Germany, he's going to school, working a job, immersing himself in the culture.
Lawson calls the competitive program, known as the ''Parlamentarisches Patenschafts-Programm'' in German, a "cultural exchange program aimed at promoting understanding and cooperation between the two countries."  It includes 75 participants chosen from all over the US, representing a majority of states and multiple fields of study. "We have engineers, bio chem majors, those who study music, politics, international relations, two welders and four chefs/bakers, really a diverse group," Lawson explains.
Read the full story.
In the News: The Monroe News (Minnesota) published a feature article about Russell Lawson, a Michigan Tech student who is spending a year on a fellowship in Germany.
by Mary LeDoux, student writing intern