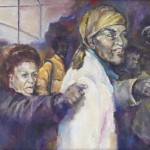 Painting for Justice
Miguel Levy is a mosaic: a physicist who loves to paint, an atheist who honors his Jewish heritage while harboring a deep sympathy for the Palestinian cause.
He started participating in demonstrations, which inspired his art. However, most of his paintings are based on photographs that appeared in news media, including Free Gaza! perhaps his favorite work.
Read more at Michigan Tech Magazine, by Marcia Goodrich.