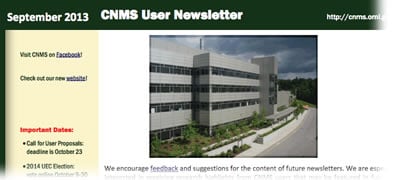 Recent work published by Professor Yoke Khin Yap (Physics) on transistors without semiconductors has gained attention at the Center for Nanophase Materials Sciences (CNMS) at Oak Ridge National Laboratory (ORNL). Yap's work "Room Temperature Tunneling Behaviors of Boron Nitride Nanotubes Functionalized with Gold Quantum Dots," first appeared in CNMS Research Highlights, and then later in the September issue of the CNMS User Newsletter.
This work is now being highlighted by Dr. Sean Smith, Director of CNMS, during his overview talk in the Triennial Review of CNMS. The triennial review is being held on September 24-26, 2013 at CNMS as attended by the review team of the U.S. Department of Energy, the CNMS Advisory Committee Review Panel, and scientists in CNMS.
On September 25, Professor Yap presented an invited talk entitled "Transistors without semiconductors: tunneling behavior of functional boron nitride nanotubes" during the review. The highlights are related to a Yap article recently published in Volume 25, Issue 33/2013, pages 4544-4548 of Advanced Materials (http://onlinelibrary.wiley.com/doi/10.1002/adma.201301339/abstract).
Yap's coauthors include Professor John Jaszczak, research scientist Dongyan Zhang, postdoctoral researchers Chee Huei Lee and Jiesheng Wang, and graduate students Madhusudan A. Savaikar, Boyi Hao and Douglas Banyai of Michigan Tech; Shengyong Qin, Kendal W. Clark and An-Ping Li of the Center for Nanophase Materials Sciences at ORNL; and Juan-Carlos Idrobo of the Materials Science and Technology Division of ORNL.