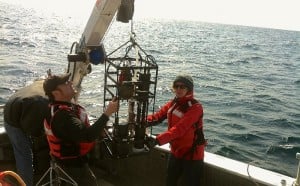 Research Engineer in Physics David Ciochetto is shown in the slideshow gallery of the recent Michigan Tech News article "One-Celled Plants Key to Understanding Changes in the Great Lakes." The article is about Colleen Mouw's research as an assistant professor in Michigan Technological University's Department of Geological and Mining Engineering and Sciences and the University's Great Lakes Research Center.
Ciochetto, who is working with the atmospheric sciences group, has an oceanography background.
Read more at Michigan Tech News, by Jennifer Donovan.