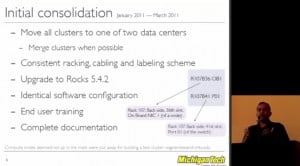 Adjunct Assistant Professor of Physics Gowtham attended the HPC (High-Performance Center) Advisory Council Conference and Exascale Workshop at Stanford University in February 2014. Gowtham presented "Streamlining Computing Infrastructure: A Small School's Experience."
International Science Grid This Week (iSGTW) interviewed Gowtham regarding the issues and challenges experienced by Michigan Tech during this overhaul of research computing. The interview appeared in the February 12, 2014, article "How one small school streamlined research-computing infrastructure," by Amber Harmon.
Gowtham is an HPC Research Scientist for Information Technology Services at Michigan Tech. Learn more about high-performance computing at campus.