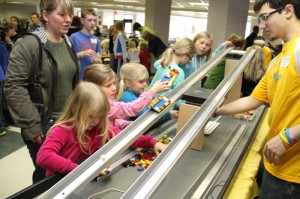 15th Annual Western UP Science Fair and Festival Tuesday
The 15th Annual UP Science and Engineering Festival will be held 4:30-7:30 pm, Tuesday, March 25.
From 4:30-7:30 pm, K-8 students and their families may participate in the Science and Engineering Festival that will offer more than two dozen fun, hands-on engineering, physics, biological sciences, chemistry activities conducted by fifty Michigan Tech students in the Memorial Union Building Commons (ground floor).
Activities are facilitated by Biomedical Engineering students, Society of Physics Students, Dept of Chemistry students, Biological Sciences students, Engineers Without Borders, and more!
Read more at Tech Today.