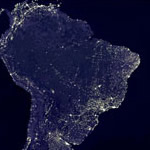 It's International Dark Sky Week: Take Back the Night
The Lyrid meteor shower peaked earlier this week, and here in the Upper Peninsula it would not have been difficult to see from pretty much anywhere. For the best view, one might drive out of town a little ways, maybe to the Breakers or McLain parks, but a short drive is all it takes.
The International Dark Sky Association tries to raise awareness to these affects and more. Information can be found at the IDSA website.
Read more at Tech Today, by Teresa Wilson, physics PhD candidate.