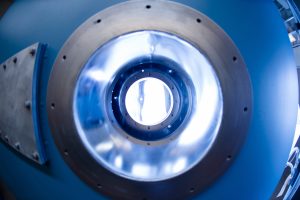 When it comes to climate change, clouds are the wild card. Atmospheric physicists at Michigan Tech use a turbulence-generating cloud chamber to better understand the details and droplets.
There are few absolutes in life, but Will Cantrell says this is one: "Every cloud droplet in Earth's atmosphere formed on a preexisting aerosol particle."
And the way those droplets form — with scarce or plentiful aerosol particles — could have serious implications for weather and climate change.
It's been known for decades that cleaner clouds tend to have bigger cloud droplets. But through research conducted in Michigan Tech's cloud chamber, which was published by Proceedings of the National Academy of Sciences, Cantrell, graduate student Kamal Kant Chandrakar, Raymond Shaw and colleagues found that cleaner clouds also have a much wider variability in droplet size. So wide, in fact, that some are large enough to be considered drizzle drops.
Dirtier clouds, Shaw explains, not only have smaller droplets, but also much more uniformity in droplet size, with no observable drizzle drops.
"If clouds have more aerosols in them, the drops would be smaller and more similar in size," Shaw says. "It would be harder for the cloud to rain, and the cloud would then last longer. If a cloud rains, or has less water in it, it won't be there to reflect sunlight."
By Stefanie Sidortsova, read the full story.