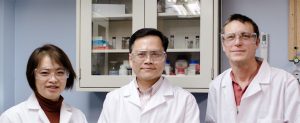 Yoke Khin Yap's research in high-brightness fluorophores earned him a place in Michigan Tech's Research Magazine in the article "Commercialization".
"We are expecting a huge impact to the field of flow cytometery…This will mean a lot for cancer and stem cell research."
High-brightness fluorophores are dyes that fluoresce in different colors and degrees of brightness. They are used in machines called flow cytometers to detect diseased cells in blood.