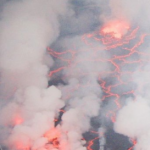 In reviewing the year's highlights, NASA mentioned a study led by Simon Carn (GMES) that shared out the world's first truly global inventory of volcanic sulfur dioxide emissions.
Using data from the Dutch-Finnish Ozone Monitoring Instrument on NASA's Earth Observing System Aura satellite launched in 2004, Carn and his team compiled emissions data from 2005 to 2015 to produce annual estimates for each of 91 presently emitting volcanoes worldwide.
The dataset will help refine climate and atmospheric chemistry models and provide more insight into human and environmental health risks. Read more and watch a video on NASA's 2017 highlights and learn about volcano breath in the Michigan Tech news story about Carn's research.