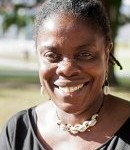 Beatrice Smith was intrigued by an article she read in the New York Times: jobs were being outsourced to her native Ghana. Her curiosity led her into a yearlong study resulting in "Reading and Writing in the Global Workplace: Gender, Literacy, and Outsourcing in Ghana," recently published by Lexington Books.
Smith, an associate professor of literacy studies in Michigan Tech's humanities department, looked at data-processing work coming from US health care companies, utilities, municipalities and others.
Read more at Tech Today, by Dennis Walikainen.