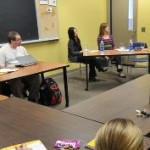 Michigan Tech is hosting the 40th Annual Meeting of the Council for Programs in Technical and Scientific Communication (CPTSC) Thursday to Saturday, September 27 to 29. It is one of the largest international meetings of its kind, according to Ron Strickland, chair of the humanities department, and it brings many benefits with it.
Strickland said the annual meeting is also a chance to showcase the University's humanities programs, faculty, and facilities. The humanities department will set up a couple of tables to present their publications and grants, one focusing on technical communication.
Read more at Tech Today, by Dennis Walikainen.