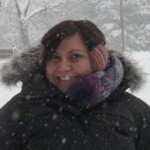 Cold Treat to (Cool) Tech Education: Mexican Grad Student Finds a New Home
"I went out for an ice cream cone," Mayra Sanchez Gonzalez says, of a routine journey in her native city of Merida, Mexico, on the Yucatan Peninsula. "I noticed this man asking directions in English, and the store clerk couldn't help him."
The man was Richard Donovan, operations manager of Michigan Technological University's Sustainable Futures Institute (SFI).
Sanchez Gonzalez wound up receiving a very competitive Mexican government scholarship to pursue a PhD in Environmental and Energy Policy at Tech and do research on her native Yucatan. Her work is part of a $5 million National Science Foundation grant with Donovan, Shonnard and others.
Read more at Michigan Tech News, by Dennis Walikainen.