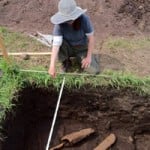 Archeology for Everybody: Summer School at the Cliff Mine

During the first summer session, Tech students and those from other colleges and universities, high school students and community seniors are all being invited to apply for the Cliff Mine Project's fourth field research season.
The field research project runs from May 13 through June 28, led by Associate Professors Timothy Scarlett and Samuel Sweitz (Social Sciences), working closely with project archaeologists Sean Gohman and Lee Presley.
Read more at Tech Today, by Jenn Donovan.