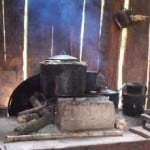 Michigan Tech students found a low-cost, highly effective way to reduce the impact of cooking over biomass fires without designing and installing high-tech, costly stoves. They have been invited by the Environmental Protection Agency to take their work to Washington, DC, to participate in the EPA's annual Sustainable Design Expo. Known as P3 (People, Prosperity and the Planet), the competition challenges college and university teams to design and develop sustainable technologies to help protect the world's health and the environment.
The cookstove project team includes Mark DeYoung and Jonathan May, mechanical engineering; Travis Wakeham, anthropology and biological sciences; and Jarod Maggio, Abram Peterson, Mollie Ruth, Kelli Whelan and Alex Wohlgemuth, environmental engineering. Their faculty advisor is Kurt Paterson, associate professor of civil and environmental engineering.
Read more at Michigan Tech News, by Jennifer Donovan.
CBS Detroit and its Technology Report published an article about Michigan Tech's two student teams chosen to exhibit in the EPA Sustainable Design Expo in Washington, DC, this week. See EPA Sustainable Design Expo.
From Tech Today.