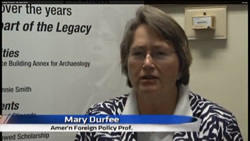 Do college students know about Syria?
Foreign policy professors at Michigan Tech said although school has only been in session for a few days, they're already teaching on it.
"Carefully," said American Foreign Policy professor Mary Durfee, when asked how she brings up the topic. "America's split on this. One of our military history professors said he polled his class. Sixty percent were opposed; that's very much like the national average."
Read more at Upper Michigans Source, by Sarah Blakely.