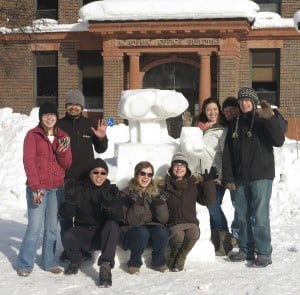 The SSGSS (Social Sciences Graduate Student Society) entered the All-Nighter statue-building contest for 2014 Winter Carnival with an entry that fused both the environmental and industrial themes of the department. They chose to build the beloved children's film character Wall-E, from the film of the same name (2008), who roamed the earth cleaning up the waste from an industrial society that had ruined the planet, but who gave a generation renewed hope in environmental stewardship and the power of the human spirit to survive.
The students that participated came from both Environmental and Energy Policy and from Industrial Archaeology and Heritage.  From the EP side we had Sarkar Mokabbir, Myra Sanchez Gonzalez, Edward Louie, Hamza Raheel, Ronesha Strozier, Amanda Kreuze, and Maggie Morrison.  From IA/IAH we had Lee Presley, John Arnold, Carol Griskavich, Rob Anthony, Leonor Medeiros, and Dan Schneider, while Marc Henshaw and Stephen Sarich fired up the BBQ grill and kept everyone fed. They worked from 6pm on Wednesday through to 3am Thursday morning stamping snow into a 4ft. cube, and then sculpting it into Wall-E's body.  They built the head and arms separately as well as freezing two clear ice discs for use as Wall-E's eyes.  The sculpture is notable for being made accurately to scale thanks to John Arnold's past life as an architect and his use of Sketch Up.
SSGSS is happy to cap off its inaugural year as a student organization with their participation in this event. Part of their mission is to foster collaborative and collegial relationships between the Social Sciences department's graduate programs (this event is not quite as useful in their role for professional development, but it was great fun!). They are proud to have brought their members' skills of engineering, architectural design, and archaeological excavation together to make Wall-E a success! They hope to make Winter Carnival All-Nighter statue building an annual tradition.