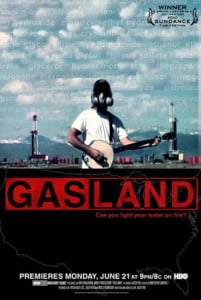 Green Film Series to present "Gasland" — part of World Water Day observance at Michigan Tech
The Green Film Series at Michigan Tech will present the film Gasland as part of several events scheduled on campus to observe World Water Day.
This 100-minute documentary will be shown from 7 p.m. to 9 p.m. Thursday, March 20, in the Atrium and G002, Hesterberg Hall, in the Michigan Tech Forestry building. It will be followed by a discussion facilitated by Richelle Winkler, Michigan Tech assistant professor of sociology and demography. Coffee and dessert will be served. (Please bring your own mug.)
The event is free and open to the public; a $3 donation is suggested.
World Water Day events are sponsored by Michigan Tech Center for Water and Society, Sustainable Futures Institute, Lake Superior Stewardship Initiative, Keweenaw Unitarian Universalist Fellowship, Keweenaw Land Trust, Great Lakes Research Center, Michigan Tech Dept. of Visual and Performing Arts, and Finlandia University. A grant/partial funding has been provided by the Consortium of Universities for the Advancement of Hydrologic Science, Inc. (CUAHSI)
Read more at Keweenaw Now.