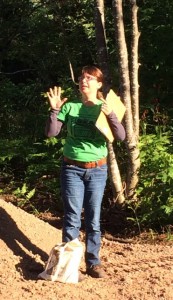 Paavola: From Farming Community to Wetlands Preserve
On Thursday 24 July PhD candidate Anna Lee Presely presented a walk-n-talk at the Paavola Wetlands Nature Area in the "Fourth Thursday in History" series, presented by the Keweenaw National Historical Park.  Presley talked about her work this summer with the Keweenaw Land Trust researching the history of the Paavola settlement, its population, relationship to area mining, the village businesses, ethnic background of the people, cultural practices, and farming––especially dealing with the wetlands. The Land Trust is continuing to raise money to stabilize the one remaining farmhouse (shown in the pictures), and her work will become part of the exhibits that describe the history.
Her talk was also covered by the local paper in Houghton, the Daily Mining Gazette, and was featured on the front page: Program focuses on agricultural history [subscription required].
—Photos and synopsis courtesy of Melinda Quivik.