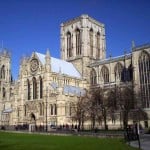 Frontiers and Fortresses is preparing for its sixth year of discovery, learning and fun in northwest England.  2015 program dates are
July 14 – August 12
. The program is based at the University of Cumbria's Carlisle campus, with five day trips to locations throughout northern England and southern Scotland and one longer four day, three night trip to the medieval city of York.
All students take three courses, SS 3560 – History of England I, SS 3920 – Archaeology of the North, and SS 3960 – International Experience.  All of the courses build upon each other, providing interactive, hands on learning, in the course of four weeks students will visit 10 castles, 4 cathedrals, 6 monasteries and multiple Roman and prehistoric sites in the Lake District and the Boarder regions of England and Scotland.
More information may be obtained by contacting Dr. Blair directly,
cblair@mtu.edu
, or by attending the information session
on
Wednesday October 29
from
5:30 – 6:30
in
Fisher 129
.  Frontiers and Fortresses, 4 weeks, 3 courses, 9 credits and a lifetime of memories.