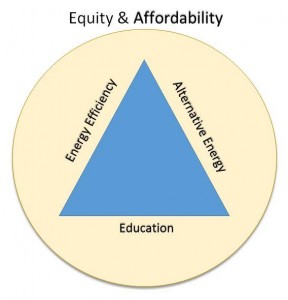 The energy efficiency and conservation plan for Houghton County, authored by four MTU graduate students, has made it to the semi-finalist level in the national competition for the Georgetown University Energy Prize of $5 million.  The primary authors were Brad Barnett, Brent Burns, and Edward Louie all graduate students in the Department of Social Sciences.  In addition, Abhilash Kantamneni, a graduate student in the Department of Computer Science contributed.  The competition is limited to communities with a population between 9,000 and 250,000, and Houghton County is the smallest-sized semifinalist.
During the fall 2014 semester Barnett, Burns, and Louie were the given the assignment of writing the energy plan in Professor Barry Solomon's advance seminar course on Energy and Climate Policy (SS6100).  The plan  focuses on energy efficiency improvements and was driven by community outreach efforts, receiving significant input from the community through public meetings.
The next step for Houghton is to hire a manager to lead the effort over the next two years (a foundation grant will fund the position).   Each semifinalist community will compete for two years to reduce their utility supplied energy consumption in a way that is likely to yield continuing improvement within their own community and replication elsewhere.  For purposes of this competition,  community energy consumption measurements are limited to energy supplied by gas and electric utilities directly to all homes and municipal customers in Houghton County.
To read the Keweenaw Now article on the celebration of semifinalist qualification for the Georgetown Energy Prize, click here.