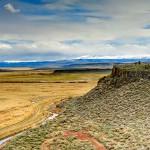 Professor Nancy Langston wrote an Op-Ed piece in the January 28, 2016 Yale Environment 360 online edition. The piece, Beyond the Oregon Protests: The Search for Common Ground, was written following the arrests and violence earlier this week in connection with the armed takeover of the Malheur Wildlife Refuge.
She is the author of a history of Malheur Refuge titled "Where Land and Water Meet: A Western Landscape Transformed."
Since the takeover earlier this month, Langston has been interviewed by dozens of media outlets including the New York Times, Mother Jones, the Denver Post, National Public Radio, the Washington Post and the Oregonian, among many others.
From Tech Today.