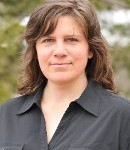 Audrey Mayer co-authored a paper titled "How Landscape Ecology Informs Global Land-Change Science and Policy" in BioScience.  Mayer will appear on the podcast BioScience Talks (bioscienceaibs.libsyn.com) on June 8, 2016.
ScienceCodex, a science news website, published an article about Mayer's BioScience journal article on the need for policymakers to pay attention to landscape ecology to make informed decisions for managing climate change, land use and urbanization. 
Read more in a guest blog by Mayer in MTU's Unscripted:  Science and Research.