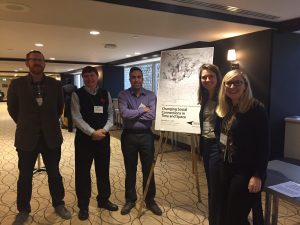 John Baeten, Don Lafreniere, Laura Rouleau, Sarah Scarlett, and Dan Trepal attended and presented papers at the 2017 Social Science History Association Conference in Montreal, Quebec. Papers include:
J. Baeten, N. Langston, D. Lafreniere. Navigating Impaired Waters: Water Quality Legacies of Historic Iron Mining in Minnesotas Mesabi Range.

L. Rouleau. Gendering Privacy: Public School Lockerrooms in the Early 20th Century.

D. Lafreniere, S. Scarlett, D. Trepal, J. Arnold. Capturing and Contextualizing History- Using Public Participatory Historical GIS to Build a Spatial Data Infrastructure of Historical Landscapes and Environments.
S. Scarlett, D. Lafreniere, J. Arnold, D. Trepal. Historical GIS and Public History: Engaging Todays Communities with Yesterdays Changing Places.
D. Trepal, D. Lafreniere, S. Scarlett, J. Arnold. Big Data for Industrial Heritage and Archaeology: the Copper Country Historical Spatial Data Infrastructure.