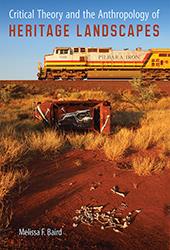 Melissa Baird's new book, "Critical Theory and the Anthropology of Heritage Landscapes" was published by University Press of Florida.
This book explores the sociopolitical contexts of heritage landscapes and the many issues that emerge when different interest groups attempt to gain control over them. Based on career-spanning case studies undertaken by the author, this book looks at sites with deep indigenous histories. Melissa Baird pays special attention to Uluru-Kata Tjuta National Park and the Burrup Peninsula along the Pilbara Coast in Australia, the Altai Mountains of northwestern Mongolia, and Prince William Sound in Alaska. For many communities, landscapes such as these have long been associated with cultural identity and memories of important and difficult events, as well as with political struggles related to nation-state boundaries, sovereignty, and knowledge claims.

Retrieved from http://upf.com/book.asp?id=9780813056562
For more information or to order the book, visit the UPF website.