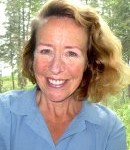 On March 17, Nancy Langston was awarded the American Society of Environmental Historian's (ASEH) highest honor, the Distinguished Service Award for 2018. President Graeme Wynn recognized her service to the profession at the annual awards ceremony:
In presenting the award, Wynn cited Langston's long, varied and vital service to the organization. "Nancy has earned many honors and distinctions, but this award recognizes service to ASEH specifically'" Wynn said.
Langston has been active in the leadership of ASEH for more than 15 years, serving as president from 2007 to 2009, vice president for two years before that and on the Executive Committee from 2003 to 2007.
She edited the journal from 2011 to 2014, and was instrumental in moving the journal to Oxford University Press and establishing the journal web page. She helped negotiate the contract with Oxford, which strengthened ASEH's financial position.
In addition, she chaired the Outreach Committee (2005-2007) and continues to volunteer for ASEH committees and activities, including the society's efforts to find and transition to a new executive director.
Langston has contributed significantly to a number of ASEH conferences, chairing the Program Committee for the Victoria conference in 2004 and the Local Arrangements Committee for Madison in 2012. In numerous lectures and editorials, she has drawn academic and public attention to the field of environmental history as a whole.  You can learn more here.