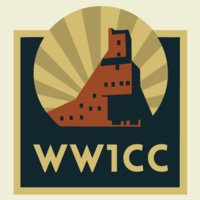 The next phase in the construction of the World War I immersive firing trench takes place over the next two days. The 100-foot-long, five-foot-deep trench will open Monday, Sept. 24. The trench is part of "World War I & the Copper Country," a community-wide commemoration of the Copper Country's involvement in the First World War.
The actual digging of the trench will begin this morning. Organizers say the contractor is expected to arrive at around 8:30 a.m. with the digging to begin sometime later.
Volunteers are needed for the construction of the firing trench tomorrow (Sept. 8). Last month, the Michigan Tech football team filled about 2,500 burlap sandbags that will be used for the trench.
Those willing to volunteer should come to the trench site near the intersection of U.S. 41 and MacInnes Drive at 10 a.m. tomorrow or check http://ww1cc.mtu.edu/2018/09/trench-updates for the latest information.  Spread the word.