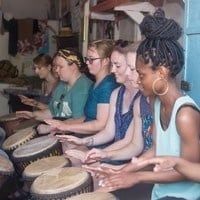 Kari B. Henquinet (SS/PHC) invites Michigan Tech students to enroll in her course as a visiting professor in Accra, Ghana during the summer 2019 term.
Hear all about the program at the Ghana Study Abroad Information Session at 7 p.m. tonight (Oct. 9) in Fisher 126. Henquinet is partnering with University Studies Abroad Consortium (USAC), a long-standing study abroad partner of Michigan Tech, to teach SS 3910, Histories and Cultures of Africa. Students may take other courses for Michigan Tech credit in the program.
Additional information on the program is available online.