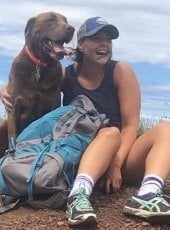 ABC-10 News aired a story, about the potential for using solar energy in the UP, quoting Michigan Tech graduate student Emily Prehoda.
She is working on a survey that will be conducted in L'Anse next fall, a collaborative effort of the Western Upper Peninsula Planning and Development Region, the Village of L'Anse, WPPI Energy, and Michigan Tech's Keweenaw Research Center and Department of Social Sciences.
Residents of the village buy their power from WPPI Energy, a non-profit company.
Prehoda was also featured in USA Today ("The US could prevent a lot of deaths by switching from coal to solar"), and on NBC and CBS with researcher Joshua Pearce (MSE/ECE).
Also in print, Joshua Pearce (MSE/ECE) and social sciences PhD Student Emily Prehoda coauthored, potential lives saved by replacing coal with solar photovoltaic electricity production in the U.S., in Renewable and Sustainable Energy Reviews that can be read here.