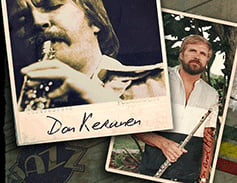 Celebrate "50 Years of Great Jazz at Michigan Tech — The Gold Standard" at the annual Don Keranen Memorial Concert, the final jazz concert of the performance season, at 7:30 p.m. Saturday (March 25) at the Rozsa Center. There will be a reception following the concert in the Rozsa Lobby.
According to Mike Irish, director of jazz studies at Michigan Tech, "Don originated the Jazz Lab Band in 1967, and since then, it has grown into one of the most respected non-major jazz programs in the country. We have so much to be thankful for from these 50 years. We hope that you enjoy this evening's concert on many levels. Please join us for a reception in the Rozsa lobby following the concert."
Tickets for the Don Keranen Memorial Jazz Concert are on sale now, $22 for adults, $6 for youth and no charge for Michigan Tech students with the Experience Tech Fee.
Tickets are available by phone at 7-2073, online, in person at the Central Ticketing Office in the Student Development Complex or at the Rozsa Box Office the evening of the performance. The Rozsa Box Office only opens two hours prior to performances.