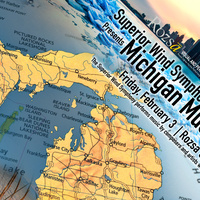 Did you know that as a child prodigy, Stevie Wonder signed with a Motown record label at the age of 11? That after the death of Count Basie, the Pontiac, Michigan native Thaddeus Jones took over the leadership of the legendary Count Basie Orchestra? That students majoring in engineering, chemistry, forestry and business currently also perform in a wind ensemble and take classes in music composition at Michigan Tech?
The Rozsa Center for the Performing Arts and Department of Visual and Performing Arts are proud to present the Superior Wind Symphony in a concert titled "Michigan Music." The performance will be led by Michigan Tech's Director of Bands, Michael Christianson, at 7:30 p.m. Friday (Feb. 3) in the Rozsa Center.
According to Christianson, "Michigan Music is a collection of music by Michigan composers, arrangers and communities for wind band. The range of music includes a classic march, Bach for clarinet choir, a piece for hand clappers, powwow music, a piece that captures the inner mind of a single dancer, several beautiful ballads, a joyous Motown tune and a modern Rag."
Michigan Composers featured will be Pulitzer Prize winner William Bolcom; Grammy Winner Stevie Wonder; Thad Jones; Warren Benson; George Kenny; and the Keweenaw Bay Indian Community.
Tickets for "Michigan Music" are on sale now, $13 for adults, $5 for youth and no charge for Michigan Tech students with the Experience Tech fee.
Tickets are available by phone at 7-2073, online, in person at the Central Ticketing Office or at the Rozsa Box Office the evening of the performance. Please note the Rozsa Box Office only opens two hours prior to performances.
By Bethany Jones