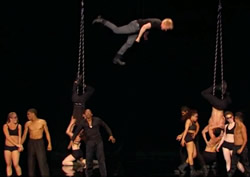 Two Visual and Performing Arts majors, Josh Maiville and Devin Miller, will be part of the popular summer series, "America's Got Talent," broadcast live from Radio City Music Hall in New York this week.

They will be riggers and flying-effects operators for Mothmen Dance, an aerial performance group created by On the FLY Productions–the production company that partnered with Michigan Tech last year to produce the flying extravaganza, "Beautiful: A Cirque-Tale of How the Butterfly Grew Her Wings."

Maiville and Miller were riggers and operators for the productions of Beautiful, and Maiville performed some flying stunts on stage. 

On the FLY was so impressed with Michigan Tech's students that the production company invited several of them to work with Mothmen, according to Associate Professor Kalen Larson (VPA). Michigan Tech is one of the only schools teaching performer flying, Larson said.

The live broadcast of "America's Got Talent" is scheduled for 9 p.m. on Tuesday, Aug. 12, on Charter Cable channels 6 and 785. An elimination round will follow at 9 p.m. on Wednesday, Aug. 13. See the audition.

This is not the first time Michigan Tech has been represented at Radio City. Ken Showler, a 2007 Tech graduate in sound design, was a designer with 7th Sense for the Radio City Christmas Spectacular 2011. He received an Excellence in Live Design Award for that work.