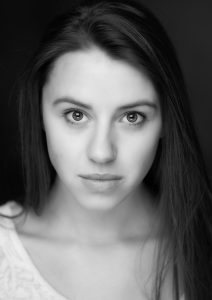 Jennings Earns National Honor for Strengthening the Rozsa Center's Community Ties
Mary Jennings, Director of Programming and Development at Michigan Tech's Rozsa Center for the Performing Arts, has earned a place among 25 national arts professionals chosen to participate in the third cohort of the Association of Performing Arts Professionals (APAP) Leadership Fellows Program.
This program invites arts professionals who show outstanding commitment to building collaborative processes in the performing arts to participate in a 20-month intensive Arts Leadership mentoring and training program. "The Leadership Fellows Program examines core questions around content and scope of leadership development for the performing arts field. It highlights, supports and helps participants understand and define the many reaches of leadership and its capabilities through peer-to-peer mentoring and creating a community of support," says Mario Garcia Durham, president and CEO of APAP. In addition to a curriculum-based, five-day intensive at the University of Southern California (USC), the program focuses on the opportunity for participants to learn from and mentor each other over the course of the 20-month arc through annual gatherings at the APAP|NYC conference in New York City and continuous engagement in an online resource and discussion platform.
According to Jennings,
"To be a accepted into their national Leadership Fellows Program is a great honor and privilege. The Rozsa Center has long been an APAP member, and former Rozsa Directors have regularly attended their annual conference to find exceptional touring artists to bring to the Keweenaw as part of the Rozsa Presenting Series. The relationships and opportunities cultivated through our involvement with APAP have been invaluable to the efforts of the Rozsa Center to bring enriching, entertaining, and elite level performances to our Upper Peninsula audiences."
This honor is no surprise to those working with Jennings at the Rozsa Center. While serving as interim Rozsa Director in 2014, then named Director of Programming and Development in 2015, Jennings created more than a dozen successful collaborative engagement activities. From backstage tours and master classes with local dance schools and the Russian National Ballet, to coordinating a Q&A for local media, Michigan Tech communications students and professionals with a senior editor of The Atlantic, to interactive displays in the Rozsa Lobby involving copper country youth robotics teams and Mind Trekkers during the Cirque Mechanics show in the finale of the 2017 Presenting Series season, she has invited many organizations and individuals to find common ground, across diverse fields, to make arts more integral to our community.
APAP Leadership Fellows Program
Building upon the program's inaugural launch in 2015, the APAP Leadership Fellows Program's goal is to expand the knowledge and proficiency among professionals in the performing arts field. Kenneth Foster, director of USC's Arts Leadership Program, and Scott Stoner, APAP's vice president of programs and resources, are co-directors of the Leadership Fellows Program. A core group of industry professionals will also lead the cohort and guide them through the program including: Dan Froot, producer/performance artist; Stephanie McKee, executive artistic director for Junebug Productions Inc.; Andre Perry, executive director of the Englert Theatre; Beatrice Thomas, multidisciplinary artist, artist coach and consultant; Cathy Zimmerman, creative consultant.
Cohort III (June 2017-January 2019)
Linsey Bostwick, senior producer, The Arts Center at NYU Abu Dhabi – New York, NY
Andre Bouchard, principal, Walrus Arts Management and Consulting, LLC – Vancouver, WA
Ben Cohen, senior agent, Cadenza Artists, Los Angeles, CA
Brett Elliott, executive director, Katharine Hepburn Cultural Arts Center – Old Saybrook, CT
Liza Green, associate director, NC State LIVE – Raleigh, NC
Leslie Hanlon, director of fundraising and marketing, Fine Arts Series at the College of Saint Benedict/Saint John's University – St. Joseph, MN
Mary Jennings, director of programming and development, Rozsa Center for the Performing Arts – Houghton, MI
Chanon Judson, associate artistic director and BOLD coordinator, Urban Bush Women Inc. – Brooklyn, NY
Joshua Kane, artist and founder, Wild Baboo Productions LLC – New York, NY
Leah Keith, manager of artists and attractions and booking agent, Opus 3 Artists – New York, NY
Damia Khanboubi, program associate, Junebug Productions – New Orleans, LA
Michael Liu, director of Chinese Community Initiatives, Flushing Town Hall – Flushing, NY
Sam Livingston, director, Weill Music Institute at Carnegie Hall – New York, NY
Miro Magloire, artistic and executive director, New Chamber Ballet – New York, NY
Stephen Manuszak, program director for international initiatives, Arts Midwest – Minneapolis, MN
Emily Marks, founder and director, Lionheart Youth Theatre – Austin, TX
Jack McLarnan, manager of Fine Arts Programs, Seattle Theatre Group – Seattle, WA
Heena Patel, founder and CEO, MELA Arts Connect – Edison, NJ
Ronee Penoi, associate producer, Octopus Theatricals – Princeton, NJ
Theresa Remick, managing director, Performance Center at Saint Mary's University – Winona, MN
Sarah Rodriguez, associate director of Institutional Giving, Apollo Theater – Harlem, NY
Bonnie Schock, executive director, Sheldon Theatre – Red Wing, MN
Alexandra Rachelle Siclait, professional development program manager, Creative Capital – New York, NY
Daniel Singh, executive artistic director, Dakshina/Daniel Phoenix Singh Dance Company – Washington, DC
Dexter Story, artist in residence/production consultant, Community Coalition – Los Angeles, CA
The APAP Leadership Fellows Program is partly funded by the American Express Foundation, The Wallace Foundation and the National Endowment for the Arts. For more information about the program please visit www.apap365.org.
About APAP, the Association of Performing Arts Professionals
APAP, the Association of Performing Arts Professionals, based in Washington, D.C., is the national service, advocacy and membership organization dedicated to developing and supporting a robust performing arts presenting field and the professionals who work within it. Our 1,600 national and international members represent leading performing arts centers, municipal and university performance facilities, nonprofit performing arts centers, culturally specific organizations, foreign governments, as well as artist agencies, managers, touring companies, and national consulting practices that serve the field, and a growing roster of self-presenting artists.
As a leader in the field, APAP works to effect change through advocacy, professional development, resource sharing and civic engagement. APAP is a nonprofit 501(c)3 organization governed by a volunteer board of directors and led by President & CEO Mario Garcia Durham. In addition to presenting the annual APAP|NYC conference – the world's leading forum and marketplace for the performing arts (Jan. 12-16, 2018) – APAP continues to be the industry's leading resource, knowledge and networking destination for the advancement of performing arts presenting.