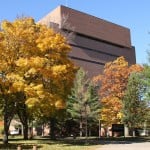 Christopher Middlebrook (ECE), has received a $348,268 research and development contract for the project, Highly Linear Electro-optic Modulator for Microwave Photonic Links Department/Center/Institute: Electrical & Computer from the US Department of Defense, Defense Advance Research Projects Agency (DARPA).
Joshua Pearce's (MSE/ECE) article on Michigan Tech's course to build your own 3D printer, which was supported by a William G. Jackson Center for Teaching and Learning grant, was the editor's pick and most read story on OpenSource.com last week.
Alumnus/Winn Fellow Joseph Rozario (ECE) and Joshua Pearce (MSE/ECE) published "Optimization of annealing cycles for electric output in outdoor conditions for amorphous silicon photovoltaic–thermal systems," in Applied Energy. DOI: http://dx.doi.org/10.1016/j.apenergy.2015.03.073.
Joshua Pearce's MSE/ECE cross-listed course was covered by OpenSource, 3D Print (Unchained with Open Source: Michigan Tech 3D Printing Course Teaches Students to Build 3D Printers) and 3D Printing Industry (Michigan Tech's Open Source Course – The Future of 3D Printing Education). Pearce was quoted in the Examiner story What ever you need, chances are a 3D printer can print it and in a Science News story about a new method to 3D print.
The research of Joshua Pearce (MSE/ECE) and his group was highlighted in the article "Can We 3D Print Our Way to Sustainability," in the Earth Island Journal.
Joshua Pearce (MSE/ECE) coauthored "Effect of ambient combinations of argon, oxygen, and hydrogen on the properties of DC magnetron sputtered indium tin oxide films" in AIP Advances.
R&D, an online magazine, published a story about Associate Professor Shiyan Hu's (ECE) work on smart home cybersecurity.
The work of Associate Professor Joshua Pearce (MSE/ECE) and his group was featured in "How 3D Printers Are Boosting Off-the-Grid, Underdeveloped Communities" in Motherboard.
PhD students Chenlong Zhang and Jephias Gwamuri (MSE) coauthored an article with Associate Professor Joshua Pearce (MSE/ECE) titled "Design of Multijunction Photovoltaic Cells Optimized for Varied Atmospheric Conditions" published in the International Journal of Photoenergy.
Technology Century, an online and print publication of the Engineering Society of Detroit, featured editor Matt Roush's interviews with faculty and graduate students from the College of Engineering at Michigan Tech, the first stop on his annual Tech Tour of university campuses in Michigan.
Joshua Pearce (MSE/ECE) coauthored an article, "Innovation Through Collaboration: Scaling up Technological Solutions for Sustainable Development," published in the journal Environment, Development and Sustainability.
Elena Semouchkina (ECE) has received $83,837 of $257,412 from the National Science Foundation for the first year of a three-year research and development project titled "Collaborative Research: IDBR: Type A: Unconventional Antenna Probes for Ultra-High-Resolution Magnetic Resonance Imaging."
Zhaohui Wang (ECE) received $100,000 from the University of Connecticut for a research project titled "Collaborative Research: Underwater Distributed Antenna Systems: Fundamental Limits and Practical Designs."
PhD students Ankit Vora (ECE) and Jephias Gwamuri (MSE) co-authored a paper with Joshua Pearce (MSE/ECE), Paul Bergstrom (ECE) and Durdu Guney (ECE) titled "Multi-resonant Silver Nano-disk Patterned Thin Film Amorphous Silicon Solar Cells For Staebler-Wronski Effect Compensation," in the "Journal of Applied Physics."
PluggedIn, an internal newsletter published by American Transmission Company (ATC), featured an article about a Michigan Tech Senior Design team that worked with ATC to create a tool that can be used to determine whether it is safe to use ATC transmission lines to start a motor, something that the company's customers often want to know if they can do. The student team won the Michigan Tech Electrical and Computer Engineering External Advisory Committee's Industry Innovation Award for their work. See their work.
Graduate School Announces Award Recipients for Fall 2013 and Spring 2014; The Graduate School is pleased to announce that the following students have earned: Fang Chen, PhD candidate in electrical engineering; Xiaohui Wang, PhD candidate in electrical engineering
Outstanding Alumni and Friends Recognized: Please join us in congratulating the following recipients of the 2014 Alumni Association awards:Honorary Alumna: Martha Sloan, professor emerita, electrical and computer engineering. Sloan's profile is available online.
Assistant Professor Zhaohui Wang (ECE) was honored at 2013 Connecticut Women of Innovation Awards ceremonies, receiving the Collegian Innovation and Leadership Award for exceptional achievements in the area of underwater acoustic communications and networking. The awards are sponsored by the Connecticut Technology Council, Boehringer Ingelheim USA, Covidien, Day Pitney and United Technologies. She was honored for her work on underwater acoustic communications. Wang has also received a 2014 Outstanding Senior Women Academic Achievement Award from the Graduate School of the University of Connecticut.
The awards honor outstanding graduating women from each of the university's schools and colleges and are sponsored by the The Provost's Office, the Alumni Association and the Women's Center at the University of Connecticut. With her advisor, Wang has also coauthored the book, "OFDM for Underwater Acoustic Communications," published by John Wiley & Sons and available here and on Amazon.
A story on Associate Professor Shiyan Hu's (ECE) research, "A Lab in
Your Pocket," was published on the eHealthserver website. It can be viewed online.