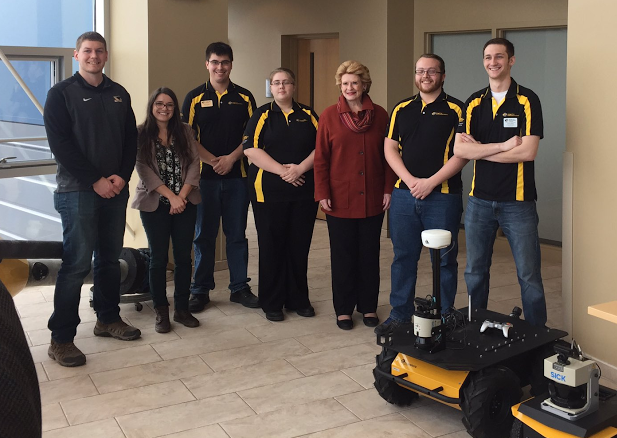 HOUGHTON — U.S. Senator Debbie Stabenow (D-Michigan) heard from Michigan Tech faculty and students about projects related to the Great Lakes during her April 1, 2017, visit to the university's Great Lakes Research Center (GLRC) in Houghton.
Cameron Burke, Michigan Tech student in computer engineering, said he was excited to be working with the robotics program and autonomous vehicles and would probably focus on these in graduate school in the future. For example, he noted some of the experiments include sending the vehicles out into the snow or rain to determine how they could be safer than a regular car.
Read more and watch the videos at Keweenaw Now, by Michele Bourdieu.
---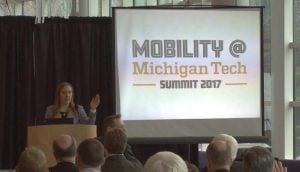 The first part of this FWF double feature almost didn't get written because there were so many events and activities in the ECE Department that I had to attend to. This second part almost didn't get written because I was lying in bed binge-watching Season 3 of HBO's "Silicon Valley". This highly entertaining and astonishingly vulgar parody of start-ups in "the valley" is LOL funny, especially for electrical and computer types like us. I am not certain that all the counter-culture stereotypes and situations bear full resemblance to reality, but I do have to imagine that there is a seamy underbelly to the tech innovation culture that is usually held up as the paragon of realized human potential, even in this very blog. Season 4 starts this week!
But, back to matters closer to home. The highlight of this past week at Michigan Tech, from my point of view, was a half-day event held on Thursday in the lobby of the Rozsa Center called the "Mobility Summit." This was an event that came together after discussions earlier in the semester involving Adrienne Minerick, Associate Dean for Research and Innovation in the College of Engineering, Pasi Lautala, faculty member in Civil and Environmental Engineering and Director of the Michigan Tech Transportation Institute, and yours truly. I have to admit, I wasn't very much help once the ball got rolling, but Adrienne and Pasi did a fabulous job and I would consider it a big success.
"Mobility" is the new buzzword that describes everything having to do with the movement of people and things. It includes vehicles of all different kinds, transportation infrastructure, transportation automation including autonomous vehicles and vehicular communication networks, human factors and human-machine interfaces, and all the changes in society resulting from disruption in ride-sharing, alternative vehicle ownership models, and public transportation. This entire field is very important to the state of Michigan, due to our history in the automobile industry, our existing strong talent base in engineering, and our desire to leverage our advantage to remain a world leader in all things having to do with transportation. There are many people downstate in government and industry who see mobility as the key to economic development, and re-development, in our state and in the region, and I would agree with them.
Because mobility is important to the state of Michigan, it is important to Michigan Tech. Several of us decided that it would be a good idea to start pulling together all the expertise across campus, just to get a better sense of how much we actually have going on. There are two compelling reasons to do this, one internal and one external. The internal reason is that we all need to be aware of what our colleagues in other departments are doing, so that we can look for synergies and perhaps begin to develop a unified vision. The external reason is, if Michigan Tech really does have a strong collective presence in mobility, then we need to brand it and make sure the whole world knows about it.
The good news is that Michigan Tech really does have a lot to offer in mobility, and this became abundantly clear at the Summit on Thursday. The centerpiece of the Summit was a series of short (like 2-minute) presentations by some 18 researchers from 6 different departments, followed by a poster session where people could follow up with focused one-on-one technical conversations. The departments that got the most exposure were Mechanical Engineering-Engineering Mechanics, Electrical and Computer Engineering, and Civil and Environmental Engineering, but it was surprising to see the level of activity in other corners of campus as well. In this sense the primary objective of the Summit was met. I found that our biggest strengths are in controls and communications, and the expertise in those areas is absolutely not limited to one department.
In addition to us talking to ourselves, we had two distinguished visitors with two stimulating keynote addresses: Paul Rogers, Director of the U.S. Army Tank Automotive Research Development and Engineering Center (TARDEC) in Warren, Michigan, and Kirk Steudle, Director of the Michigan Department of Transportation (MDOT). Both spent the bulk of their time talking about the development of autonomous vehicle technology. From Dr. Rogers we learned that the Army has been working on military autonomous vehicles for quite a while, and developing technologies that may have an impact on the development of commercial autonomous vehicles. From Dr. Steudle we learned that Michigan is ahead of the curve, legislatively speaking, in creating the environment for the development of autonomous vehicles, particular with regard to testing on public roads. Both speakers advocated a stronger and more visible role for Michigan Tech in mobility, and offered advice on how we might get there.
The main takeaways for me were 1) yes, Michigan Tech has a lot to offer the state in mobility, and 2) yes, we will need to work together across campus to develop a comprehensive strategy, both for collaboration and for branding. The third takeaway is more specific to the ECE Department, and which is in the eye of the storm when it comes to moving autonomous technology forward. Dr. Rogers said it best, perhaps unintentionally, when he presented a slide showing where the breakthroughs are needed to make autonomous vehicles a reality. The slide included things like artificial intelligence, big data, radar, lidar, image processing, communication networks – in fact, every single thing he showed comes from the worlds of electrical engineering, computer engineering, and computer science. Powertrain engineering was conspicuously absent from the discussion. Granted, there is a lot of powertrain work to be done if the transition to all-electric vehicles happens at the same time as the transition to autonomous vehicles, but even there, there is plenty of work for electrical engineers. My point here is that while across-campus collaboration can and must happen if Michigan Tech is to be seen as a major player in mobility, the center of gravity for mobility research and development must shift at the same time. I am happy to help make that happen, as best I can.
This coming week is Final Weeks at Michigan Tech, and commencement happens on Saturday. It is an exciting, wonderful time (commencement, not finals) and you will read all about it here. Stay tuned.
– Dan
Daniel R. Fuhrmann
Dave House Professor and Chair
Department of Electrical and Computer Engineering
Michigan Technological University
---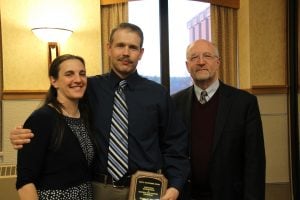 Welcome to a special double feature edition of FWF. I am playing catch-up this weekend, in my attempts to write one column per week, not always successful. This is the busiest time of the year at Michigan Tech, so there is plenty to write about, but sometimes doing stuff gets in the way of writing about it.
The week of April 10-14 is "Week 13" in the spring academic calendar. In the ECE Department, this is when the students wrap up their Senior Design and Enterprise projects and make their final presentations, on Thursday. Simultaneously, the ECE External Advisory Committee (EAC) is in town, from Wednesday afternoon to Friday noon. The timing of the EAC visit is no coincidence, as their primary mission in the spring meeting is help us judge the student presentations. The entire ECE faculty gets into the act as well, sitting in on the presentations and offering their feedback. For all of Thursday morning, from 8am to 1pm, we listened to student teams of 4-6 describe their various projects. Collectively we watched 26 different presentations spread out over 5 time slots and 6 venues.
My overall impression this year is that the presentations were quite good; there seems to be a gradual improvement in the quality of the oral communication skills and the level of comfort our students have with public speaking. If I were to have a concern, it would be that I wonder if we are doing enough to challenge our students with the electrical and computer engineering technical content. All of our Senior Design projects are industry-sponsored, and many of the Enterprise projects are as well. We are of course very proud of our relationships with our industry partners, and seek to do everything we can to ensure that they get the value they seek from supporting our educational programs. The trick is making sure that those needs include tough, interesting, electrical/computer engineering problems that require a concerted effort for several months on the part of our students to find a viable solution. The EAC echoed these concerns in our debriefing session on Friday, and it is something we will be taking a close look at next year.
As is to be expected there is a range of quality in the student projects, and the best ones are absolutely outstanding. Each year the EAC awards the Larry Kennedy Industry Innovation Award to the project they deem to be the very best. The award is named in honor of our recent EAC chair who was taken from us suddenly by a heart attack, two years ago, at a far too young age. This year's award goes to the project titled "Surgical High Speed Drill Rotor Position via CAN bus" sponsored by the Stryker Corporation. Stryker is a medical device and equipment company headquartered in SW Michigan; this is their first Senior Design project in the ECE Department. The ECE faculty advisor is Trever Hassell and the Stryker point of contact is Keith Behnke, whom we also welcome to the EAC this year. The students on the team are Dan Bragg, Elliott Meese, Julio Saint-Felix Rodriguez, Hailey Trossen, and Yuguang Wang. My congratulations to everyone involved in the project – in terms of the scope of the project and the quality of the execution this is exactly what we hope for every year.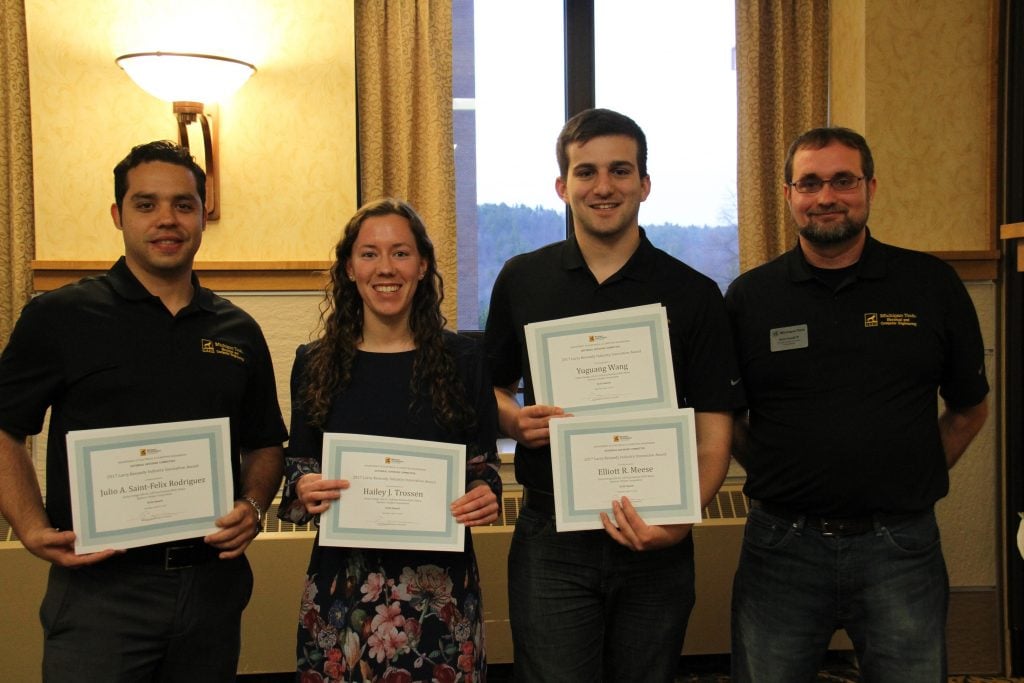 The award for best capstone project is just one of several awards given out at our Senior Banquet, which occurred the evening of Thursday, April 13, with student, faculty, and EAC members in attendance.
This year for the first time we recognized the many undergraduate students who serve the ECE Department in various capacities, some paid and some volunteer. These include participating in Fall Open House and Spring Preview days, telephone calling campaigns for student recruiting, departmental tours, and our Undergraduate Advisory Board. Some 18 students were presented with certificates. This community service by our students is highly valued and greatly appreciated by the department, and the recognition is long overdue. I plan to continue doing this at the Senior Banquet from here on out.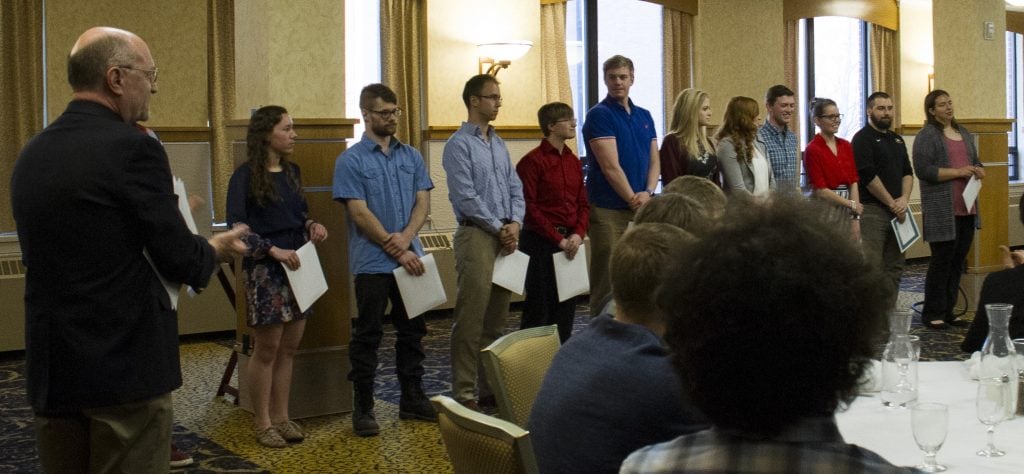 The Departmental Scholar Award is our departmental nominee for the Provost's Award for Scholarship, given to a student who will be senior ranked in the following academic year, and who represents the very best in scholarship and leadership at Michigan Tech. The ECE Departmental Scholar for the 2016-2017 academic year is Sarah Wade, a double major in electrical engineering and computer engineering with an outstanding academic record and long list of extracurricular activities including being on the Nordic ski team. Sarah is a member of the Aerospace Enterprise, hosted in the Department of Mechanical Engineering-Engineering Mechanics and is making significant contributions there as a systems engineering and technical lead. Many of our award-winning students over the years have been associated with the Aerospace Enterprise so they must be doing something right over there. Like all but one of the Departmental Scholars at Michigan Tech, Sarah did not win the Provost's Award, but the competition was stiff and we were proud to have her represent ECE.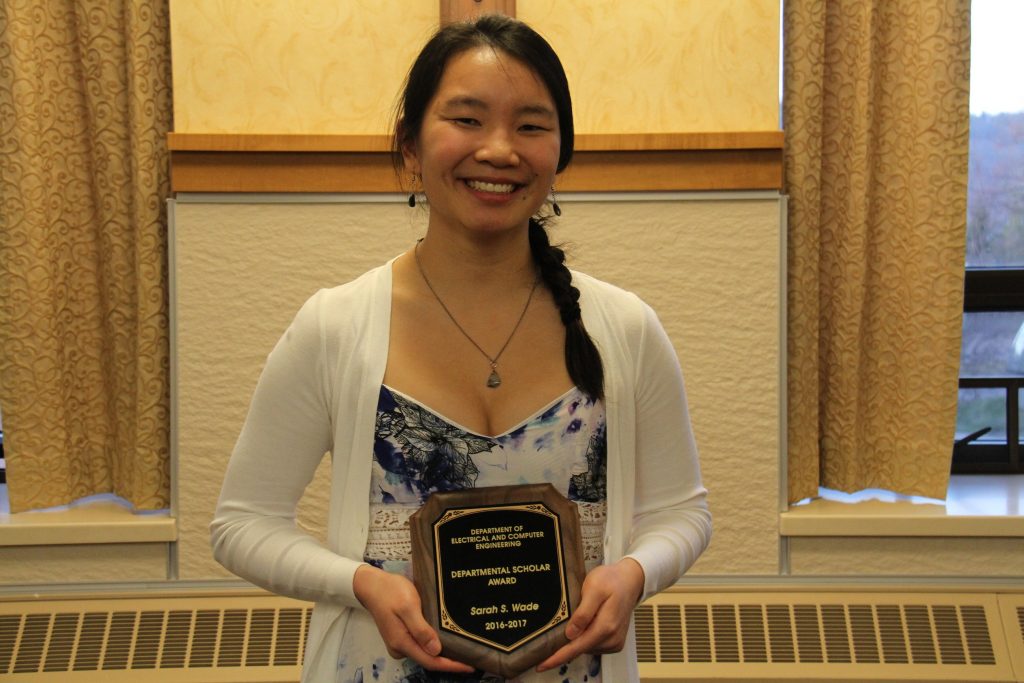 The Woman of Promise Award was created by the Presidential Council of Alumnae, an advisory group to President Mroz. It is intended to recognize those women at Michigan Tech who go "above and beyond" what is expected in terms of being a well-rounded student, with considerations of academic achievement, campus leadership, citizenship, and creativity. This year the ECE Department had such outstanding nominees that we decided to give two Woman of Promise Awards. The first went to Jenna Burns, a high-achieving electrical engineering major with a minor in Spanish, who also is a percussion section leader in the Pep Band, and who has really distinguished herself in service to the ECE Department. Our second Woman of Promise is Elizabeth "Libbey" Held, a double major in electrical and computer engineering, a minor in Spanish (is there a theme here?), and a near-perfect GPA. Libby was cited by several faculty members as someone who asks the most insightful questions in class and during office hours. My congratulations to both Jenna and Libbey. Both have a year to go, so I say keep up the good work!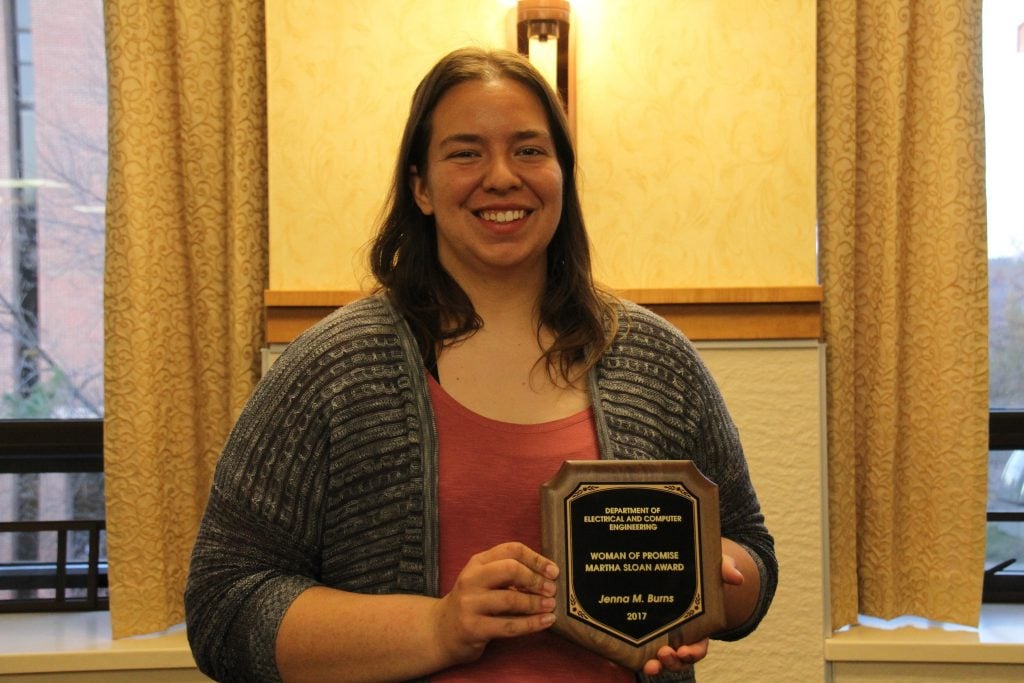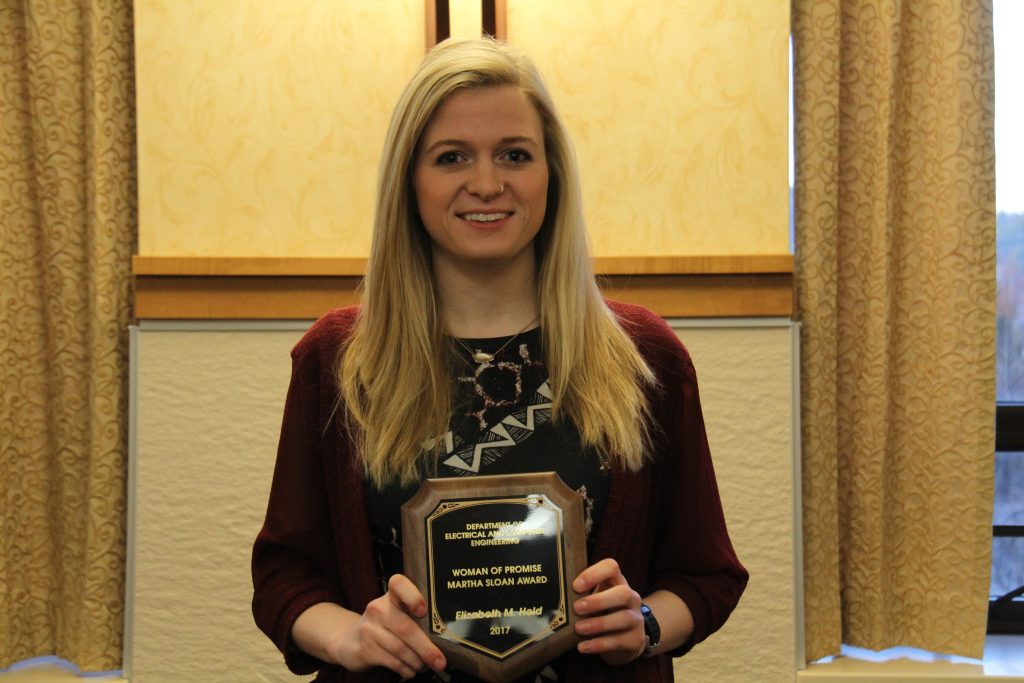 Our top student achievement award is the Carl S. Schjonberg Award for the Outstanding Undergraduate Student in the ECE Department. This year's award choice was in my opinion a slam-dunk and I made that opinion known during our faculty deliberations, which I usually stay out of. Casey Strom is a truly remarkable individual. He is what we would call a "non-traditional" student, meaning that he comes to our program with a fair amount of life experience already under his belt. He lives and works on a family farm in Calumet, has a large family already, and had his own surveying business at the time of his coming into the department. In spite of all these demands on his time, he completes all of his coursework in the ECE Department with near-perfect attendance, all homeworks completed on time, and many exams close to 100%. This guy is motivated like you wouldn't believe, and on top of that he has the most cheerful can-do demeanor of any student I have ever met. Casey, you represent the best of everything we try to do in the ECE Department and I couldn't be prouder to call you a Michigan Tech graduate.

The final award of the evening at the Senior Banquet is presented by the students in Eta Kappa Nu to their selection for the Professor of the Year. This year's award goes to Duane Bucheger. Duane is our Professor of Practice who runs the Senior Design program and teaches courses in design fundamentals, electric circuits, and electronics. He has been in this position for six years, and during that time he has done an outstanding job of building up our space and equipment devoted to Senior Design on the 7th floor of the EERC. As anyone in the ECE Department can tell you, Duane is a strong and vocal advocate for making sure students are aware of what will be expected of them in industry, and for preparing them to enter that world. I am delighted to see the Eta Kappa Nu students recognize Prof. Bucheger for his efforts on their behalf; I think it is a fitting tribute for all his hard work. For a variety of reasons and by mutual agreement, Duane will be stepping down from this position at the end of the academic year. We wish him all the best and thank him for his many contributions to the ECE Department.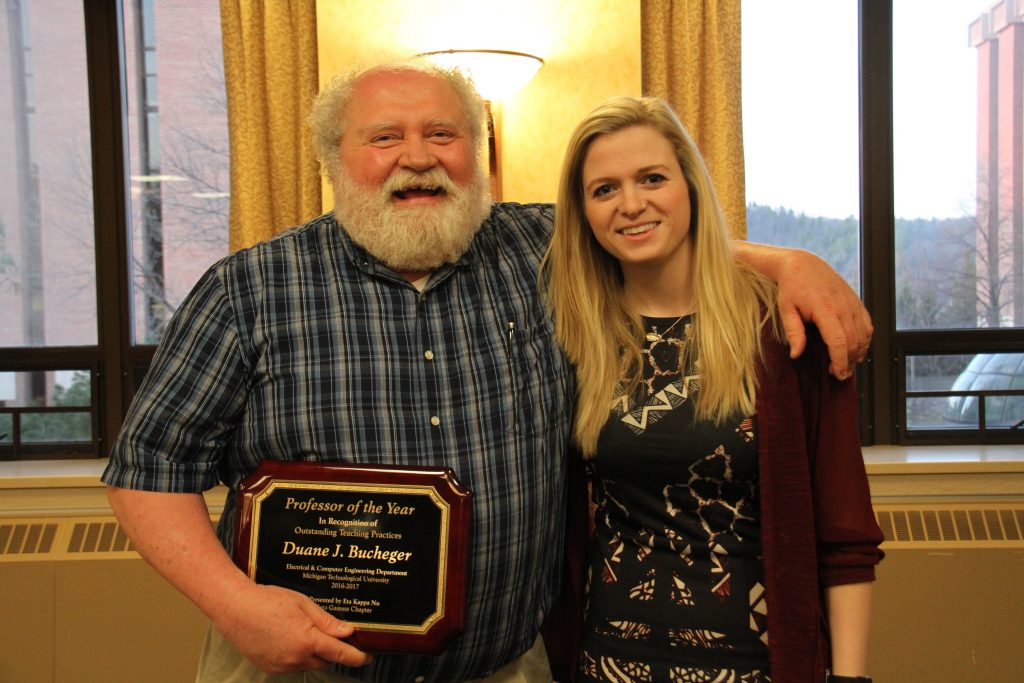 All of that was almost two weeks ago! One more post and I will be caught up – and maybe the snow will be gone.
– Dan
Daniel R. Fuhrmann
Dave House Professor and Chair
Department of Electrical and Computer Engineering
Michigan Technological University
---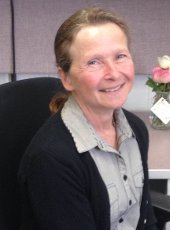 Michigan Tech's new Lean facilitators were recognized April 11, 2017. These new facilitators completed a six-month training program with classroom learning and work-related projects. They received in-depth training on team building, conflict management, organizational change, facilitating techniques and Lean methods and tools. They are now ready to join the current Lean facilitators and will spread continuous improvement using Lean thinking across the University.
Among the graduates is Joan Becker, ECE Graduate Program Coordinator.
For more information about the Lean facilitator training, contact improvement@mtu.edu.
Original story by the Office of Continuous Improvement.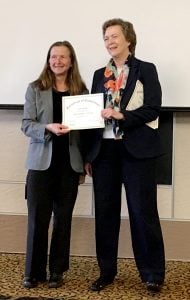 ---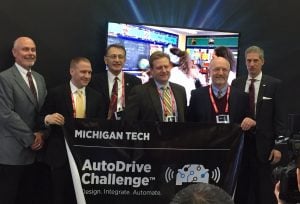 It has definitely not been a quiet week in Houghton. Some pretty exciting news in the ECE Department was made public, and I will share that with you shortly below. There was also some bittersweet news for the entire university, and I think it best if I lead with that. This past Wednesday, two days ago, our university president Glenn Mroz announced in an e-mail to the campus community that he was stepping down as president and returning to the ranks of the faculty, effective June 30, 2018. That date is over a year away, so there is plenty of time for an orderly transition in the administration, and also plenty of time for reflections and best wishes which I am certain will be ample as the date approaches. President Mroz has worked tirelessly on behalf of Michigan Tech and is much loved by the university community. The institution has made some important strides forward under his leadership. I will leave it at that (for now), and just add that we have an interesting year ahead of us.
Now on to the good news. On Wednesday it was announced that Michigan Tech is one of 8 universities in North America selected to participate in the GM/SAE AutoDrive Challenge. This is a collegiate competition, jointly sponsored by General Motors (GM) and the Society of Automotive Engineers (SAE), with the goal of having students design, build, and test a fully autonomous vehicle. The students will take an existing vehicle – a Chevy Bolt, donated as part of GM's sponsorship – and outfit it with sensors, processing, and control strategies to make it autonomous, over a period of three years. It is an ambitious project, with an ambitious goal, and I couldn't be happier that we will be a part of it.
There was a competition just to get into the competition. The Michigan Tech team that prepared the winning proposal was led by Prof. Jeremy Bos of the ECE Department, who worked closely with Prof. Darrell Robinette of the Department of Mechanical Engineering-Engineering Mechanics. There was also close cooperation with Rick Berkey of the Pavlis Honors College, who is responsible for much of the oversight of the Michigan Tech's signature Enterprise Program. The reason behind the Pavlis participation is that the competition activity will take place in the Robotic Systems Enterprise, which is hosted in the ECE Department but which includes membership from other parts of campus, most notably ME-EM and Computer Science. Next year Prof. Bos will take over as faculty advisor for the Robotic Systems Enterprise, and AutoDrive will comprise a major portion of his teaching assignment.
The announcement was made on Wednesday with much fanfare at the SAE World Congress, a large technical conference and exposition for automotive engineers held at CoBo Hall in downtown Detroit. There was a big lunch for all the winning teams and then a ceremony, with speeches by representatives of GM and SAE and announcements of the winning teams with plenty of photo opportunities, for ourselves and for the press. It was a wonderful moment. SAE was extraordinarily generous with us and the other teams, paying for all the travel expenses to attend the conference and particularly the announcement event. There were four us on hand – Jeremy, Darrell, ME-EM chair Bill Predebon, and me.
We had a chance to meet the other teams; they are:
Kettering University
Michigan State University
University of Toronto
University of Waterloo
North Carolina A&T State University
Texas A&M University
Virginia Tech
I have a lot of respect for these other institutions and I know the competition will be stiff. I welcome the opportunity to see how Michigan Tech stacks up.
I am excited about this turn of events for several reasons. First off, I have been advocating for the past year or so for the ECE Department to have a larger footprint in the areas of the robotics, control, and automation. A lot has been coming together in this regard, e.g. the growth of the Robotic Systems Enterprise, some changes to the curriculum, and development of our research programs, but this may very well become our most visible activity in the area. I have to add, this is not just about ECE: it will be a team effort involving ECE, ME-EM, and CS. This is a great opportunity for these three units to show what can accomplished when we break down the silos a little bit and work toward a common goal. In doing this we will meet another objective of mine, which is to ensure that our work is beneficial to the state of Michigan and the larger Great Lakes region. I see a renaissance in the state that is driven in part by the development of new technologies surrounding the "mobility" area, which leverages the considerable engineering talent that already exists here. Engineers who can cross disciplinary boundaries among ME, EE, and CS are needed to keep this movement vital. I want Michigan Tech to be known as an institution that is doing its part for the economic growth and revitalization of the region, through both our research and through educational programs that meet the state's workforce needs.
I also believe a program like the GM/SAE AutoDrive Challenge will do a lot to stir the imagination of new and prospective students at Michigan Tech. A lot of high school students that come to campus have experience in FIRST Robotics, and when they visit us the first thing they want to know is, what do we have going in robotics? Do we ever have an answer now: how would you like to be part of a team building a fully autonomous vehicle? The aspiring engineers in FIRST Robotics – and just yesterday I met a very capable and enthusiastic team at the Macomb Academy of Arts and Sciences, in Armada, Michigan – have the passion and the drive to see this project through to a successful conclusion as they mature as college students. I predict we are going to see another jump in enrollment in ECE and ME-EM as word of this competition gets around.
We see a lot in the popular press these days about autonomous vehicles and how quickly the technology is developing. I think this is the "moon shot" for the current generation. We may not know how we are going to get there, but it is pretty clear that we are going to get there one way or another. In analogy with the original moon shot in the 1960s and 1970s, this effort may be more valuable for new spin-off technologies that result than it is for the stated goal. If you think about it, what did we really accomplish in 1969? We put some men on the moon, they drove around in buggies, and collected some rocks – big deal. What was really launched in the NASA lunar missions was an entire electronics and computing industry, with far-reaching consequences leading right to present day and far beyond. The same may happen with autonomous vehicles, as entirely new paradigms for sensing, processing, and artificial intelligence give rise to new life-altering technologies that we cannot even imagine today.
When President Mroz issued his open letter to the campus community on Wednesday, he included this critically important statement: "I have no intention of allowing Michigan Tech to lose its forward momentum." The AutoDrive Challenge is a perfect example of that forward momentum. There may be transitions and uncertainty in the university's future, just as in the landscape of mobility technologies, but that is no reason to look to the future with anything less than optimism and a sense of wonder about the possible. I wish our AutoDrive team all the best of luck, and will do everything I can to support them. Game on!
– Dan
Daniel R. Fuhrmann
Dave House Professor and Chair
Department of Electrical and Computer Engineering
Michigan Technological University
---
Timothy Havens (ECE/ICC) is the principal investigator on a research and development project that has received $15,000 from the Massachusetts Institute of Technology, Lincoln Laboratory.
Timothy Schulz (ECE) is the Co-PI on the project, "Self-Interference Modeling in Active Phased Arrays."
This is a five-month project.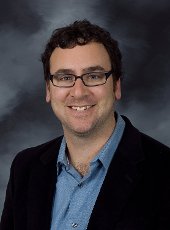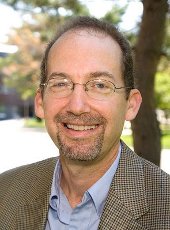 ---
Here we are at the end of March, and the end of Week 11 in the academic calendar – one month to go until the end of the semester and commencement. The snow on campus is steadily disappearing, Mont Ripley is closed, and I have hung up my skis for the seasons. Out like a lamb, as they say. This is the calm before the storm, although for me it is not so calm as there is a lot of planning to do! I'll be on the road next week, but after that we have the Design Expo, the meeting of our External Advisory Committee, final exams, all leading to commencement on April 29.
One area of the department that does see a flurry of activity at this time is the completion of the PhD dissertation defenses. These do not happen right at the end of the semester, as it is often the case that PhD candidates need to make some changes to their dissertations before they get to the final approval stage. We have two defenses this week and two next. I like to go to as many of the presentations as I can, although unfortunately I have to miss the ones next week. The ones I saw this week, both yesterday, were quite good.
It has been a pretty good year for PhD production, by our standards. Assuming all the remaining work is completed according to plan we will graduate 12 PhD students this academic year, which ties a record for us. Our departmental goal over the last 3-year period is to graduate 30 PhD students, or 10 per year. We hit that mark over the 2011-2014 time period, but will not make it this time – we only had 9 graduates total in 2015 and 2016. There are a lot of variables that affect PhD enrollment and completion, so we accept that and move forward.
Building and sustaining a PhD program in a department like ours, which has a long and distinguished record in undergraduate education, requires a concerted effort and a shift in the culture over the long haul. I believe the ECE Department is doing exactly that, and I am proud of the direction in which we are going and the gains that have been made.
At all universities, PhD training is intimately connected to research activity. I have heard it said that the PhD education is an "apprenticeship in research", also that "you do not earn a PhD, you become one." The process requires a great deal of commitment on the part of the student, who undertakes several years of an almost monastic existence while doggedly pursuing the goal of making an original and creative contribution to a (usually) narrowly-defined technical area. It requires a lot of effort on the part of the academic advisor as well. Unlike a lot of other teaching roles in higher education, the relationship between the advisor and the student is often deeply personal and almost certainly unique. For this reason, people often think of an academic "lineage" defined by the chain of advising relationships, much like a family tree. Believe it or not, I can trace my academic lineage back to Fourier! (Aside: many years ago, it was pointed out to me that my academic advisor, Bede Liu, had an academic lineage that went back to Fourier. I thought that was cool but it was a full 24 hours before it dawned on me that as a result, the same was true for me.)
The decision to have a viable PhD program that is recognized nationally and internationally begins with a shared understanding of why we do it in the first place. As described above a PhD program is certainly connected to research, but I have long maintained that the two are not synonymous. A research program is the responsibility of the faculty, who set the direction for the research, are carrying out their own research, and who are working hard to build up a program with sustainable external funding. While the PhD students are participating in the research, they are really here to learn the craft from their advisors. An analogy I like to think of is that of a master musician and a student in the conservatory: the master must be an accomplished performer in his or her own right, and perform in public regularly, while at the same time training the student in the art.
This then raises the question, why do we do research? My answer on this one is simple: we do research to make the world a better place. Any other reason, such as having a research program in order to justify having a PhD program, will doom the research organization to failure or at best mediocrity. The department faculty need to be enthusiastic about, and committed to, their scholarship. In this way they will lead by example and produce outstanding PhD graduates, who in turn will do the same in their own careers. I am happy to say that, from what I have seen this week, the Michigan Tech ECE faculty feel the same way.
It is often the case that university and department rankings are heavily influenced by the size and productivity of research and PhD programs. Since prospective students, including high-school students, often use such rankings in their decisions about what schools to attend, one could easily imagine a motivation to build up a research program for the sole purpose of attracting undergraduate students. This would be misguided and we need to guard against it. This is not to say that quality research programs and quality undergraduate programs are in conflict in some sort of zero-sum game; far from it. The best universities are the ones in which the faculty are passionate about their scholarship and are effective in communicating that passion to the young minds that pass through their gates. The ideal of the teacher-scholar is something we should all be striving toward. It is not easy, and we do not always live up to that ideal, but if we keep the goal out in front of us at all times the university will be the better for it.
It is exciting and rewarding to be at a place like Michigan Tech, where we have proud traditions from the past but also are moving forward to build new ones for the future. My congratulations in advance to all our PhD graduates and their advisors in the 2016-2017 academic year.
– Dan
Daniel R. Fuhrmann
Dave House Professor and Chair
Department of Electrical and Computer Engineering
Michigan Technological University
---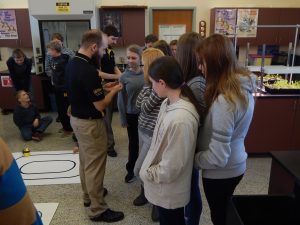 Michigan Technological University's Robotic Systems Enterprise (RSE) recently made a visit to nearby Jeffers High School to introduce students to robotics and programming.
Responding to a request from Mr. Sam Kilpela, Jeffers Science and Math teacher, the RSE Outreach team presented an introduction to Scratch and showed off their programmable miniature robots, the Hackbots and Zumos.
The Scratch programming language lets the user create a program from a drag-and-drop system, making it much easier to learn as an introductory venture into programming. Since the students had previous knowledge of basic HTML, the Outreach team provided a look into more advanced programs such as the interactive Madlibs where the students could choose a series of words and generated a sentence from those words.
Through on-site demonstrations in the classroom, the Outreach team hopes to give pre-college students a look into the world of robotics and other STEM fields.
Robotic Systems Enterprise is an industry-driven enterprise that focuses on seamlessly integrating exceptional knowledge in electronics, robotics, and programming to solve real world engineering problems. RSE is advised by Dr. Glen Archer.
---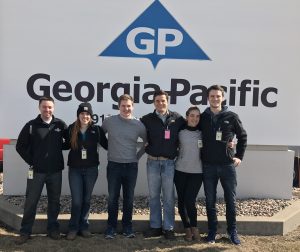 Members of Blue Marble Security Enterprise went right to the source this week to gain knowledge of their project sponsor's operations and products.
Georgia-Pacific engineers, and Michigan Tech alumni, Mitch Edbauer (ECE) and John Cretens (MEEM) hosted the site visit and provided a tour of GP's Green Bay-Broadway Paper Mill. The students were impressed by the company's process automation, where they saw entire sections of the plant controlled by a single person. They were equally impressed by Georgia-Pacific's environmental commitment including the use of 100% recycled fiber in their product production.
This year the BMS team has been researching ways to replace disposable batteries in automated soap and paper towel dispensers. The project includes finding alternative energy and methods to more efficiently disperse the products.
Blue Marble Security is a virtual company of undergraduate students focused on securing the future through thoughtful use of technology. The Enterprise is advised by Dr. Glen Archer.
---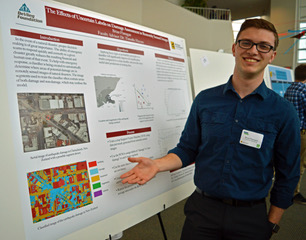 Brian Flanagan, a computer engineering major, was among the winners of the 2017 Undergraduate Research Symposium held on Friday, March 17 in the lobby of the Rozsa Center.
A record number of abstracts and posters were submitted this year – an astonishing 71 – representing every school or college on campus. Flanagan was awarded Second Place for his research on "The Effects of Uncertain Labels on Damage Assessment in Remotely Sensed Images". Faculty advisor was Tim Havens, ECE and CS William and Gloria Jackson Associate Professor.
The annual Symposium is conducted by the Pavlis Honors College and highlights the amazing cutting-edge research being conducted on Michigan Tech's campus by some of our best and brightest undergraduate students.
---