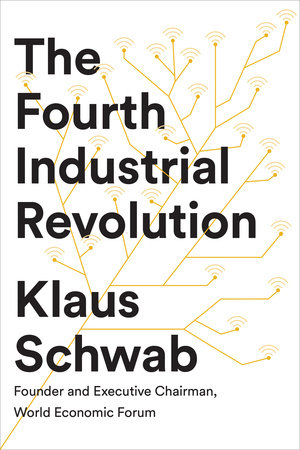 This week is Engineers Week, a national celebration of all things engineering, and as you might imagine there are a number of activities going on around campus that raise awareness of the field (like we need that here) and generally give us the opportunity to feel good about who we are and what we do. Although the ECE Department does not take a lead role in organizing the week's activities, various corners of the department such as the Blue Marble Security Enterprise are participating. This past Wednesday was also the date of the spring Career Fair, when companies and organizations come to campus to recruit our students for co-ops, internships, and full-time jobs. The spring fair is always smaller than the one in the fall, but with 219 recruiting organizations on campus it is still respectable by anyone's standards. As usual, a lot of companies are looking to hire electrical engineers and computer engineers, a theme I have touched on many times before. This weekend the fun will continue with a student-organized and student-led hackathon called Winter Wonderhack. We expect a fair number of Michigan Tech students, some students for other universities in the region, and maybe a few high school students too, on campus showing off their chops in creativity and invention.
This seems like a good week to talk about where technology is going, and the role that an organization like the ECE Department can play. I recently read the book "The Fourth Industrial Revolution" by Klaus Schwab, and thought I would offer a few thoughts about it.
Schwab is the founder and executive chairman of the World Economic Forum, the annual meeting of world leaders in government and industry held in Davos, Switzerland. This meeting draws a lot of heavy hitters – including, sometimes, the President of the United States – and as a result it gets a fair amount of press. The theme of the 2016 WEF meeting was "Mastering the Fourth Industrial Revolution" and Schwab's new book provides a succinct companion volume to that meeting. The concept of the Fourth Industrial Revolution has been around for a while, and I have even used it for several years in some of my own presentations to prospective high school students and first-year students at Tech. The promotion of the idea through the WEF brings it to a higher level of visibility in industry, government, and in the public imagination.
The basic idea is that human society has been through a series of transformative periods in our history, brought about by technological innovations, that each time have fundamentally altered the way we live and work. The First Industrial Revolution (the one often taught in high school as THE Industrial Revolution) occurred in the period from 1760 to 1840, and is characterized as the change from human and animal labor to mechanized work, exemplified by the steam engine. The Second Industrial Revolution occurred around the turn of the 20th century, with the rise of mass production and assembly lines, made possible by the widespread use of electrical power. It was during this time that "action at a distance" became commonplace – one could burn a lump of coal at one place and turn on a light somewhere else. Or, one could tap a key in a telegraph office and information would instantaneously appear 50 miles away. Or, with the aid of refrigeration, food could be grown on a farm and days or weeks later consumed in the city. The Third Industrial Revolution, in the 1960s and 1970s is associated with the rise of computers, and the use of computers to automate many manufacturing and information processing tasks.
The Fourth Industrial Revolution is, at its core, all about connectivity. While computer technology developed rapidly in the latter part of the 20th century, the tasks being performed were tasks that we were already doing. In contrast, the connected nature of all the computers and sensors in the 21st century is fundamentally altering our daily lives – not only how we do things, but what we want to do in the first place. The Internet is largest and most visible of this movement, but in truth the Internet is only just the beginning of this revolution. Now we are moving into the era of the "Internet of Things" (IoT) or the "Internet of Everything" where all the objects and devices in our lives, whether for personal use or for business, manufacturing, or process control, will be connected through one vast network of sensing, communication, and control. "Cyber-physical systems" is a term used to describe the convergence of digital and physical technology that is happening alongside the IoT.
One of the aspects of the current industrial revolution, which sets it apart from the previous three, is the speed at which technology is developed and subsequently adopted. The Internet has gone from an academic curiosity to the primary engine of communication and commerce in the space of 20 years. Amazon was founded in 1994, Google in 1998. The first iPhone was introduced in 2007, and now there are an estimated 2 billion smartphones worldwide. AirBnB and Uber were unknown 5 years ago, and are now household names. Right now autonomous vehicles are the subject of vigorous research and development, but according to many enthusiastic (and optimistic) advocates they could be on the roads by 2021. Imagine the day when autonomous vehicles are as common, and as accepted as normal, as the smartphone is today!
Klaus devotes much of the book to the impact of the Fourth Industrial Revolution, as well he should. I imagine this is in keeping with the many discussions taking place at the World Economic Forum, as leaders grapple with all the implications of this revolution in their respective constituencies. I don't have the space here to discuss all those implications at length, but I can say a few things about the impact on my own constituency: electrical and computer engineers at Michigan Tech. A good place to start is with the list of 23 "shifts", as Klaus calls them in the appendix of the book, itself an outgrowth of a 2015 WEF survey report. These are the major technology trends associated with the Fourth Industrial Revolution, and each associated with a "tipping point", the point at which a technology moves from being a novelty to a necessity. They are:
1. Implantable Technologies
2. Our Digital Presence
3. Vision as the New Interface
4. Wearable Internet
5. Ubiquitous Computing
6. A Supercomputer in Your Pocket
7. Storage for All
8. The Internet of and for Things
9. The Connected Home
10. Smart Cities
11. Big Data for Decisions
12. Driverless Cars
13. Artificial Intelligence and Decision Making
14. AI and White-Collar Jobs
15. Robotics and Services
16. Bitcoin and the Blockchain
17. The Sharing Economy
18. Governments and the Blockchain
19. 3D Printing and Manufacturing
20. 3D Printing and Human Health
21. 3D Printing and Consumer Products
22. Designer Beings
23. Neurotechnologies
When I look at that list, and I cannot help but think – wow, there is a lot of work here for electrical and computer engineers. It is not exclusively ECE related technology, of course, but we will have our fingerprints all over it, probably more than any other discipline with the possible exception of computer science. This is precisely why I bring up the Fourth Industrial Revolution when speaking to young students with interests in STEM: this is what is coming, and the world needs you to make it happen.
I also notice in this list that, while on the surface it looks cheerful and optimistic, there are also a lot of technologies that could be subverted by those who seek to do harm to others. For this reason, cybersecurity will be a hugely important component of the Fourth Industrial Revolution. While he does not discuss security in the appendix, Schwab does cover it elsewhere, touching on the changing nature of conflict, cyber warfare, autonomous warfare, the militarization of space, and related topics.
The challenge for us in engineering education is to make sure that we are preparing students to enter this world. I see two complementary aspects to this. First, we must be certain that we continue to stress the fundamentals – after all, the laws of physics do not change (as I saw in an electronic product slogan tagline once, they are just more rigorously enforced.) Time spent learning the timeless truths of mathematics is never wasted. At the same time, we must be aware of these disruptive technologies and be certain that our students' mastery of fundamentals is not diverted to the mastery of obsolete technology. We must also be certain that students have the skills, in the right proportion of depth and breadth, to be valuable not only for their expertise in a very narrow slice of technology but also for their broader understanding of the context for their expertise. For this reason, I am a believer in the "T-shaped" knowledge base that Robert Lucky alludes to in his column in the January 2017 issue of IEEE Spectrum – a deep specialty combined with broad understanding. Looking over Klaus' list of 23, I would argue that, for our students, the horizontal arm of the T would encompass at least three major disciplines: electrical engineering, mechanical engineering, and computer science. The vertical arm would be the particular specialty, which could dive deep into some sub-specialty within one of those three disciplines. I am convinced that someone with that combination would find a world of opportunity laid at their feet.
Klaus' book is relatively short but it raises a lot of important points that can serve as the basis for many fruitful discussions. These are exactly the kinds of discussions that I hope that we will have here at Michigan Tech as we imagine our own future. After all, our informal slogan is "Create the Future" and that applies to the institution just as much as it does to our students. Institutions such as ours are the engine behind the Fourth Industrial Revolution and where it is headed is largely up to us. Will we be in the driver's seat?
– Dan
Daniel R. Fuhrmann
Dave House Professor and Chair
Department of Electrical and Computer Engineering
Michigan Technological University
---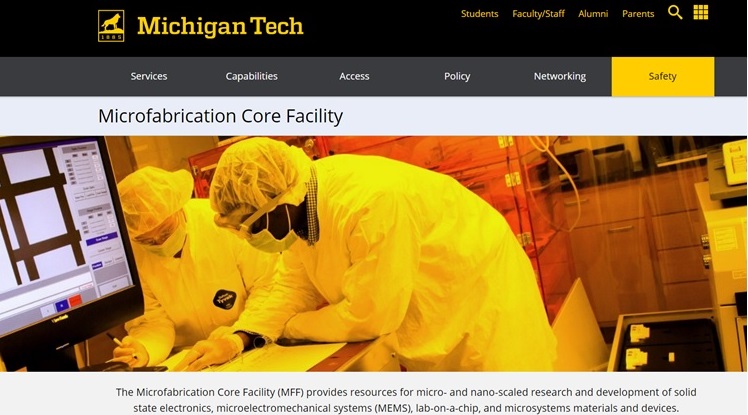 Michigan Tech's Microfabrication Facility, housed under the Department of Electrical and Computer, has launched its new website mtu.edu/microfabrication.
The Microfabrication Facility (MFF) consists of thin film, plasma etching, photolithography, and temperature processing equipment. MFF capabilities are broad and applicable to areas of biomedical engineering, chemistry, chemical engineering, electrical engineering, physics, materials science, and mechanical engineering. Deposition, sputtering, etching, and photolithography capabilities together with microcharacterization measurement systems enable precision device engineering.
The new site enables users to schedule reservations and check the live status of the MFF equipment, along with other user friendly features.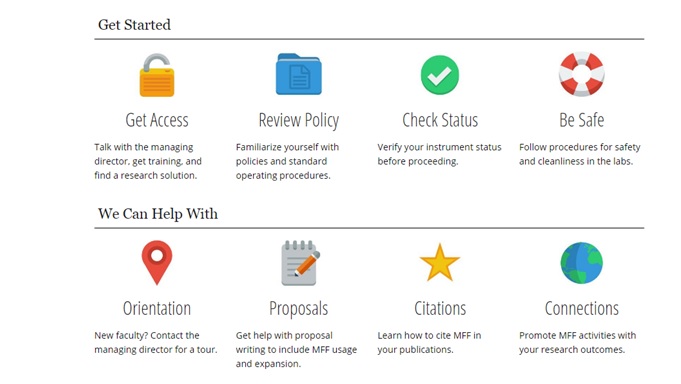 The MFF was also recently selected as a member of the Northern Nano Lab Alliance (NNLA), a regional network of university fabrication facilities. The mission of the NNLA is to help each member improve their support of academic research in applied nanotechnology.
MFF managing director Chito Kendrick, PhD, says "Being a member of the NNLA allows for a partnership with some of the local regional universities that have similar nano/micro fabrication facilities, and will indirectly expose Michigan Tech to the National Nanotechnology Coordinated Infrastructure (NNCI), which has replaced the National Nanotechnology Infrastructure Network (NNIN). This opens up availability to systems that are currently not provided by the MFF. The partnership will also benefit the MFF staff with access to technical support and loaning equipment from the other groups; also we are exploring ways to reduce the operational costs of these facilities."
---

The life blood of any academic department is the faculty, and one of the keys to maintaining an intellectually healthy and vigorous faculty is the regular infusion of new talent and all the fresh ideas that come with it. I am happy to say that over the time that I have been here, the ECE Department has been fortunate to be able to bring in a number of new young faculty members, and doubly fortunate that they have been successful in so many different ways. Today I want to give a special shout-out to that side of our department.
By way of background, for those not completely familiar with the U.S. system, at most universities there are three ranks of tenured and tenure-track faculty: Assistant Professor, Associate Professor, and Professor. Anyone with the word "Professor" in their title is expected to be recognized as a scholar in his or her respective field, and to be able to translate that scholarship into effective classroom teaching. The usual duties of someone in these ranks is said to include teaching, research, and service, and the allocation of time and efforts among these three legs of the academic stool can vary quite a bit. Assistant Professors are near the beginning of their academic careers; they usually hold the PhD degree and may have some prior experience such as a post-doctoral fellowship. They are said to be "tenure-track" meaning that they will be seeking tenure after some period of time, typically six years. Associate Professors are more mid-career, continuing on the successful path that was begun earlier, and perhaps exploring new ideas, research areas, and collaborations. Tenure, the guarantee of lifetime employment to successful faculty members, is usually granted at the time of promotion from Assistant Professor to Associate Professor. Professors are the well-established faculty members who have built a strong track record in research and teaching, and are recognized nationally and internationally for their scholarly contributions. Professors often take on leadership positions within in the department or the university as well.
In the ECE Department right now we have four faculty members at the rank of Assistant Professor. At this time last year we actually had seven, but three of those – Durdu Guney, Tim Havens, and Chee-Wooi Ten – we promoted from Assistant Professor to Associate Professor last spring. I was delighted that all three were able to run the tenure and promotion gauntlet and emerge successfully at the other end. I had thought that three in one year must be a record, until Martha Sloan informed me that she was in a group of six such faculty members many years ago! We are happy for this group, and they are continuing to make us proud just as I knew they would.
Our four current Assistant Professors, in no particular order, are Jeremy Bos, Lucia Gauchia, Zhaohui Wang, and Sumit Paudyal. It has been a great year for this group, and over the past month or so we have gotten some wonderful news which has prompted this week's column. Collectively they have been awarded three early-career awards: two National Science Foundation (NSF) CAREER awards, and one U.S. Air Force Young Investigator Program (YIP) award. These awards give young faculty members the time and resources to build a strong foundation in research. Their success reflects a lot of hard work, definitely a lot of perseverance, and a little bit of good luck too. Fortune favors the prepared mind.
Dr. Jeremy Bos is a 2013 PhD graduate of our own program, working (then) under the supervision of Dr. Michael Roggemann in atmospheric and statistical optics. He continued in this line of research for two years under an Air Force post-doctoral fellowship on the island of Maui, before returning to Michigan Tech in 2015 to take up his current position. He is the recipient of a three-year Air Force YIP award, titled "Imaging Theory and Mitigation in Extreme Turbulence-Induced Anisoplanatism." His research will help the Air Force to see objects over long distances through turbulent media, such as the atmosphere, which causes light paths to bend in unpredictable ways and wreaks havoc with conventional optics and image reconstruction. Jeremy also has a separate and practically unrelated technical interest area, namely robotics, control, and automation, which stems for his time as a engineer at GM prior to coming to graduate school. He is playing a critical role in helping the ECE Department develop a strategy for expanding our robotics programs, all the way from graduate research, to undergraduate teaching, to pre-college outreach. It's like having two faculty members in one!
Dr. Lucia Gauchia came to Michigan Tech in 2013, originally from Spain and most recently (at the time) a visiting position at McMaster University, in Hamilton, Ontario. Her area of interest is in energy storage systems, which covers the different ways that we can store energy that has been generated electrically so that it can be used at a later time. Utilities and consumers need energy storage to balance the generation of electrical power with the demands of electrical loads – often the two are out of sync. Because energy conversion is of interest to both electrical engineers and mechanical engineers, Lucia holds a joint appointment in the ECE Department and the Department of Mechanical Engineering-Engineering Mechanics at Michigan Tech. She holds an endowed position, the Richard and Elizabeth Henes Assistant Professor of Energy Storage Systems. Her cross-listed graduate course in energy storage systems is increasingly popular each year, and she gets very high student course evaluations for it. Lucia is the recipient of an NSF CAREER award, titled "An Ecologically Inspired Approach to Battery Lifetime Analysis and Testing." She plans to borrow ideas from lifecycle analysis and population dynamics to understand better the performance and potential failure modes of batteries and battery packs, an increasingly important component of utility power systems, automobiles, and a myriad of other applications of electrical power.
Dr. Zhaohui Wang also came to Michigan Tech in 2013, having just completed her PhD with a very successful group at the University of Connecticut. Her work is in underwater acoustic communication networks. She had originally came in on a "computer engineering" search, but she has proven herself to be an able contributor in signals and systems as well. She teaches courses in wireless sensor networks, detection and estimation theory, and for the first time this semester our required undergraduate course in communication theory. Because of her interest in underwater acoustics, she is a member of the Great Lakes Research Center (GLRC) and has a large and expanding laboratory there. Zhaohui is the recipient of an NSF CAREER award, titled "Online Learning-Based Underwater Acoustic Communication and Networking" which will support much of her research for the next five years. She plans to develop methods for communication among multiple underwater surveillance platforms that take advantage of real-time modeling of underwater acoustic communication channels, which are dynamic and can be very complicated. This is an ambitious project combining elements of communication theory, signal processing, and physics. I can't resist mentioning that Zhaohui was featured on the cover of our 2015 annual report (my favorite cover ever) walking across the ice on Keweenaw Bay in the dead of winter, where she and her graduate students were drilling holes in the ice and carrying out under-ice acoustic communication experiments.
Dr. Sumit Paudyal is the senior member of this group of young faculty. He came to us in 2012 with a PhD from the University of Waterloo, in Ontario. His work is on the electrical power side of the ECE Department, by far the most popular area among our current MS students. His research and teaching area is in optimization and control of power systems. He is the lead Michigan Tech investigator on a project sponsored by ARPA-E (Advanced Research Projects Agency – Energy) in collaboration with the University of Vermont, titled "Packetized Energy Management: Coordinating Transmission and Distribution." The aim is to improve the ways that power grids take advantage of multiple intermittent energy sources, such as solar panels and wind turbines, borrowing some ideas from packet-switched communication (the essential idea behind the Internet.) Sumit is an outstanding teacher, with large graduate classes and very high student course evaluations; in fact, he has been recognized by the university through induction into the Michigan Tech Academy of Teaching Excellence. I recently did a little back-of the-envelope calculation, and discovered to my delight that, considering tuition revenue, course evaluations, and research expenditures, Sumit has made himself the third most valuable member of the ECE Department!
I get to work with a lot of wonderful people every day – our faculty, our staff, and our students. These four are among the best. We are proud to call them our own here in the ECE Department, and I look forward to many years of a mutual rewarding relationship.
– Dan
Daniel R. Fuhrmann
Dave House Professor and Chair
Department of Electrical and Computer Engineering
Michigan Technological University
---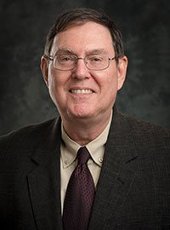 This week the Deans' Teaching Showcase returns to the College of Engineering. Dean Wayne Pennington has chosen Glen Archer, principal lecturer and associate chair in the Department of Electrical and Computer Engineering.
Dan Fuhrmann (ECE chair), recommended Archer because of his long history of teaching EE3010, a service course primarily populated by other engineering majors.
Besides being very large (enrollment was 193 last fall), students tend to find the material difficult and perceive it as not directly related to their major. Despite these challenges, Archer earned an "Excellent Teacher" rating of 4.36 on a 5 point scale.
Fuhrmann wrote, "In addition to this traditional teaching assignment, Glen also teaches students in a wide variety of less formal venues. Glen serves as a mentor to two Enterprise groups. He has been a long-time advisor of Blue Marble Security. Recently, as an overload, he enthusiastically embraced adding the Robotics Systems Enterprise and has already grown membership in that enterprise from five to 30 students.
"Glen also leads departmental efforts to assemble course offerings and the binder process for the department. He also assigns and mentors the graduate teaching assistants in ECE, and has been known to have them to Thanksgiving dinner at his home in some years.
"But when asked about his favorite parts of teaching, it's his mentorship of his Enterprise students, especially as they lead a substantial outreach program in ECE. Through Summer Youth Programs, Upward Bound and other programs, Archer's team hosts hundreds of pre-college students annually. Glen says he 'couldn't be prouder' of the work these teams are doing. He also cites a recent win and third place finish in international competitions for the Blue Marble Security team.
"Finally, Glen measures his success by 'hearing from students that what they learned in EE3010 was useful in their senior design projects. That's what helps me get up in the morning.'"
Fuhrmann says "I think that Glen is terrific, and I don't know what I'd do without him."
But given Archer's student focus, perhaps the best endorsement in his unique teaching capacity comes from a Reddit.com review by an anonymous student. "I'm not an EE so I had him for circuits for non believers, and man is he funny. He is also super helpful. He sets up online help groups, encourages participation, suggests going to his hours, and suggests going to the help center. He's a really good professor and teaches the material well."
Archer will be recognized at an end-of-term luncheon with 11 other showcase members, and is now eligible for one of three new teaching awards to be given by the William G. Jackson Center for Teaching and Learning this summer recognizing introductory or large-class teaching, innovative or outside the classroom teaching methods, or work in curriculum and assessment.
---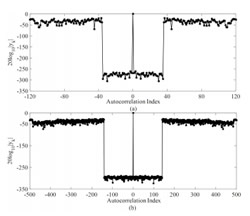 This paper introduces a novel method to improve the Time of Arrival (ToA) estimation resolution for a fixed available bandwidth in the presence of unknown multipath frequency selective (MPFS) channels. Significant desire on utilized bandwidth reduction in wireless technologies endorses exploiting this technique to increase ranging resolution and/or time synchronization while low bandwidth signal are exploited. Exploiting this method would have extensive impact on variety of technologies which enjoys ToA as ranging technique such as radar, wireless communications and etc.
By Mohsen Jamalabdollahi, Student Member, IEEE, and Seyed (Reza) Zekavat, Senior Member, IEEE.
Published in: IEEE Transactions on Communications ( Volume: PP, Issue: 99 )
---
Husband and wife graduate students have won honors from Tech's Department of Electrical and Computer Engineering.
Mohsen Jamalabdollahi was named Outstanding Graduate Research Assistant, and his wife, Sakineh Yazdanparast, was recognized as the ECE Department's Outstanding Graduate Teaching Assistant.
---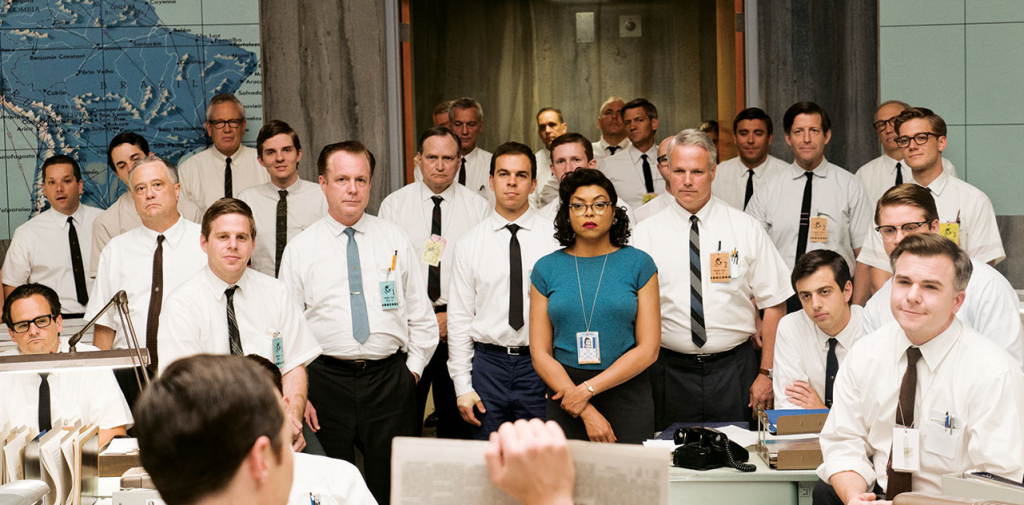 A few weeks ago my family and I went to see "Hidden Figures." This movie traces the story of three African-American women in their struggle for opportunity and recognition as mathematicians and engineers in the early days of NASA's Mercury space program. The story takes place in a time when NASA employed a large number of "computers" which in those days meant, literally, "people who compute." Taraji P. Henson plays Katherine (Goble) Johnson, a mathematician who calculated spacecraft flight trajectories and ultimately played a critical role in the success of the John Glenn's pioneering flight, orbiting the Earth – all while battling an organization that refused to give credit for her contributions, and having to walk a half mile in heels to the "colored" bathroom. Janelle Monae plays Mary Jackson, an aspiring engineer who identifies a problem with the capsule's heat shield, and who eventually goes on to a career as an aeronautical engineer and engineering manager at NASA. Octavia Spencer plays Dorothy Vaughan, the unofficial supervisor for a group of female African-American "computers" who fought for recognition as a real supervisor and, after learning FORTRAN and becoming familiar with the new IBM computers that were installed to replace their human counterparts, eventually became supervisor of the Programming Department. I found the movie engaging and entertaining, and recommend it highly.
Even before seeing this, from the trailers it brought to mind two other movies about people struggling to make their contributions in the face of overt discrimination. One was "42", the story of Jackie Robinson of the Brooklyn Dodgers, the first African-American in Major League Baseball. I was mildly disappointed in this movie. Of course the historical story line is compelling, and the movie was well-acted and well-directed, but there were no surprises. The story arc was a straight line from beginning to end and most of the action was pretty predictable, especially to those with a cursory knowledge of baseball. The screenplay practically wrote itself.
I was even more disappointed in "The Imitation Game", about Alan Turing, the brilliant mathematician and essentially the founder of modern computer science, who played a central role in the decrypting Nazi intelligence codes for the British in World War II. After the war Turing was outed for being gay, prosecuted for "gross indecency", and eventually committed suicide in 1954 at age 41. Again, the movie was very well made and was a commercial success. However, it had quite a number of historical inaccuracies which distort his relationships both during and after the war. At least, that is what I have read – this is one of those cases where everything I know I learned on the Internet. What I have read, however, is consistent with the way I felt after seeing the movie. Somehow it did not ring true, that the filmmakers were trying too hard to portray historical events in the context of modern sensibilities. (My mother, who is something of a Civil War history buff, felt the exact same way about Steven Spielberg's "Lincoln.")
So, going into "Hidden Figures" I was prepared for an entertaining but not particularly deep piece of fluff. I couldn't have been more wrong. I was completely pulled in to the story of these three women, and the juxtaposition of something that I cannot identify with (the struggles of African-American women) with something that I can (engineering and mathematics). Granted, there are parts of the history that are slightly altered for dramatic effect, but that is to be expected in any docudrama. I have not read any major complaints about historical inaccuracy. Katherine Johnson did go on to be awarded the Presidential Medal of Freedom in 2015, was married 50 years to the soldier who courted her during the Mercury program (also depicted in the movie) and has a building named after her at Langley Research Center. Mary Jackson became NASA's first black female engineer. Their story reflects the stories of countless other women and African-Americans who are pioneers in the STEM fields, blazing a trail for the modern generation of students and STEM professionals. I left the theater inspired and proud to be an engineer.
In addition to the central story line of the movie, there were two other messages that I absolutely loved. One is that an engineering education is something worth fighting for. For me the most moving scene in the movie was when Mary Jackson went before a judge and made her case, successfully, for why she should be allowed to take University of Virginia night-school engineering classes alongside the male students at all-white Hampton High School. Of course, these days no one should have to fight to be allowed to study engineering. The doors of Michigan Tech, like those of all engineering schools in the United States, are open to those who have prepared themselves and are willing to work hard. We can be proud of that, but we also have to recognize it would not be true without the efforts of many like those depicted in this movie.
The other message that I appreciated was one that had nothing to do with the social context, but was about engineering in general and the importance of getting things right the first time. When the flight engineers are determining the exact point in John Glenn's flight when he goes from an elliptical orbit to the parabolic trajectory that will bring him back to the Earth – the "go/no-go" point – Katherine is pulled in to make sure that the calculations are absolutely correct. It brought to mind Ed Harris' famous admonition in "Apollo 13" – failure is not an option! Any errors in the calculation would have meant a failure of the mission and the loss of an American hero. I was really happy to see that little message in there, and I hope all the budding engineers and mathematicians in the audience were paying attention.
Bottom line – wonderful movie; any STEM students (meaning 85% of Michigan Tech) would get a kick out of it. Two thumbs up!
– Dan
Daniel R. Fuhrmann
Dave House Professor and Chair
Department of Electrical and Computer Engineering
Michigan Technological University
---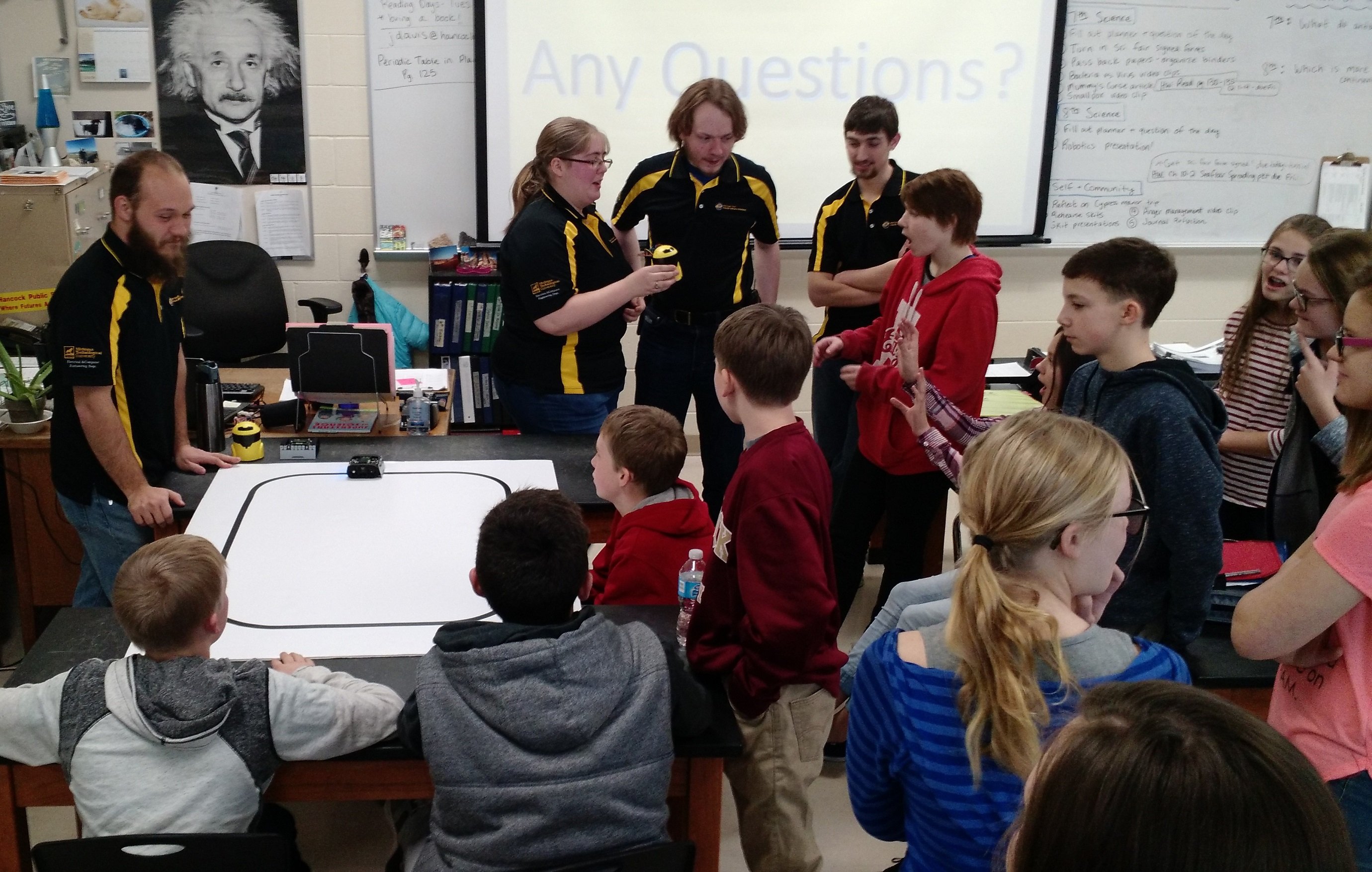 Members of the Robotic Systems Enterprise (RSE) at Michigan Technological University recently visited Jen Davis' eighth grade science class at Hancock Middle School to share their excitement in the rapidly growing field of robotics.
During the activities, students were shown how to use Scratch, a drag-and-drop programming platform which enables beginners to learn programming techniques without having to use complex syntax. From the Scratch platform, students were then shown how to create simple programs such as Hello World, which is the induction into a myriad of programming languages.
The visit was a huge success as the students enjoyed interacting, editing, and playing the Scratch programs that they helped the RSE Outreach members to create. Through events like this, RSE hopes to inspire future generations to the area of robotics and STEM education.
The Robotic Systems Enterprise is housed within the Department of Electrical and Computer Engineering and is advised by Dr. Glen Archer. RSE is an industry-driven enterprise that focuses on seamlessly integrating exceptional knowledge in electronics, robotics, and programming to solve real world engineering problems.
---

I am setting aside the draft of the column I was working on for this week, so that I can write a few words in response to the president's executive order temporarily banning people from seven countries from entering the United States. This order has had an immediate and significant impact across all of American higher education, including Michigan Tech. The impact has both a humanitarian dimension, in terms of the damage it is doing to our international students, scholars, and their families, and a practical dimension, in terms of the research, scholarship, and enrollment at institutions of higher learning nationwide.
This past Wednesday the University Senate of Michigan Tech passed a "Sense of the Senate" resolution on this same issue. I am not a member of the Senate and thus cannot vote, but nevertheless I was at the meeting. I agree with the resolution and support it. In fact, it reflects my own thoughts well enough that I will simply use it here, verbatim.
The first sentence of the resolution mentions that the Senate is a non-political body. I also affirmed two weeks ago that I would not use this column as a forum for my own political views. This raises an interesting question – what exactly is political? If I were to advocate for a candidate or a political party in an election, that would be unambiguously political and I am not going to do it. However, if I respond to actions of our government, whose officials have already been elected, which has ramifications for me and my community, then we are in more of a gray area – made more gray by the fact that all of the actors are on one side of the political spectrum. Having pondered this a while, my position is this: commenting on issues of law and policy that affect me, my colleagues, our students, and what we do for a living every day, is not political. It is my right and my duty as a citizen and an academic leader at Michigan Tech. I am commenting on the issues, not the people who created them.
In what is given below, I have removed a couple of short paragraphs I consider more internal to Michigan Tech, messages from the Senate to the university administration. Again, my purpose here is to use the words prepared by Senate members that I find accurately and eloquently represent my own position.
Here then is the (slightly edited) Sense of the Senate resolution, adopted Wednesday, February 1, 2017:
"Resolution in Support of our International Colleagues and Students"
(Voting Units: Full Senate)
*Background*
The University Senate of Michigan Technological University acknowledges that it is a non-political body. However, when external political events have an impact on its constituents and on the academic life at Michigan Technological University, the Senate has the obligation to address the issues at hand.
*Rationale*
The Senate agrees that President Trump's Executive Order "Protecting the Nation From Foreign Terrorist Entry Into the United States" causes severe distress among the international employees and students of Michigan Technological University, and has a serious negative impact on the academic life at the university. Examples of these are, but are not limited to, international faculty being unable or scared to travel to international conferences or conduct their international research, international students being unable or scared to participate in studies abroad, faculty and students being unable or scared to plan visits to family members abroad, distressed students in the classroom, and reduced scholarly output of the people impacted. This in turn will have serious adverse effects on Michigan Technological University's academic productivity.
*Resolution*
The Senate recognizes that the international character of this workplace is an important strength of Michigan Technological University. Michigan Technological University is proud to be an inclusive workplace welcoming employees and students from all backgrounds.
The Senate expresses strong support to all employees and students affected by the above mentioned executive order. The Senate recognizes that the group of employees and students affected by the executive order ranges beyond those originating from the seven countries directly targeted by the executive order, and in fact has an impact on everyone in our university community, because when one group is targeted we are all made vulnerable.The Senate will work to guarantee that adverse affects stemming from this order, such as reduced international mobility, are not used against anyone impacted (for example in decisions on tenure and/or promotion).
The Senate supports President Mroz's statement: "I can't relieve the distress that many of you might be feeling as a result of this and other events of the recent past. But what I can say is that with your help, we can, and we will, as the Michigan Tech Community, advocate for respect, understanding and compassion in the way we treat each other regardless of our differences. We can and we will defend the Constitutional rights of all in the Michigan Tech community. And we can and we will treasure and protect the free and open exchange that is essential to scholarship, research and creativity. By remaining committed to these core values we can all help to ensure that Michigan Tech remains a community that is open to people from across our nation and around the world."
– Dan
Daniel R. Fuhrmann
Dave House Professor and Chair
Department of Electrical and Computer Engineering
Michigan Technological University
---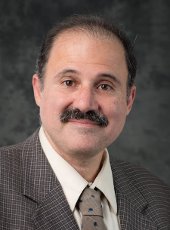 This paper, by Mohsen Jamalabdollahi (WLPS), and Seyed Reza Zekavat (ECE/WLPS), introduces a novel and effective ranging approach in Non-Homogeneous (NH) media consisting of frequency dispersive submedia via time-of-arrival (ToA) and Direction-of-Arrival (DoA) merger. Exploiting this technique, sensor node can be localized with in variety of NH media such as underground layers with different water content, airborne to underwater channels or even human body.
Moreover, this technique proposes a novel approach which can be utilized for layer thickness detection which have an prominent impact on the area of geoscience and remote sensing.
This paper is published in IEEE Transactions on Geoscience and Remote Sensing which is ranked the second journal in area of remote sensing according to Scholar google metrics.
---