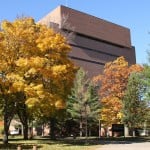 Joshua Pearce (MSE/ECE) was the keynote speaker for the Shared Resource Laboratories: Driving Innovation and Discovery joint Mid-Atlantic Directors and Staff of Scientific Cores (MAD SSCi) and Southeastern Association of Shared Resources (SEASR) meeting in Charlottesville at the University of Virginia last week.
Technology Century, a science and technology news website published by the Engineering Society of Detroit, reported on a visit by ESD executives to Michigan Tech and plans to establish a student chapter of the ESD at Michigan Tech.
Wisconsin STEM Pathways, a publication of Wisconsin Project Lead the Way, published a feature article in its Winter issue about a Michigan Tech computer engineering student, Eric Johnson, from Appleton, Wis.
Joshua Pearce (MSE/ECE) made Red Hat's list of 21 open hardware enthusiasts to follow on Twitter. Red Hat is a $1.5 billion/year multinational open source company. Pearce explains the 3D printing revolution in a podcast on Japan's Corbett Report. The Corbett Report is an independent, listener-supported alternative news source, operating on the principle of open source intelligence.
Christopher Middlebrook (ECE), has received a $348,268 research and development contract for the project, Highly Linear Electro-optic Modulator for Microwave Photonic Links Department/Center/Institute: Electrical & Computer from the US Department of Defense, Defense Advance Research Projects Agency (DARPA).