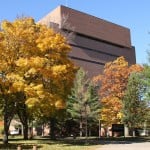 Tech Century, a science and technology news website published by the Engineering Society of Detroit, reported on Professor Durdu Guney's (ECE) metamaterials work to create the "perfect" lens. Read the article.
Seyed Zekavat (ECE) has received $24,954 from the National Science Foundation for the project titled, Workshop on Challenges for Space Solar Power.
Graduate students Jephias Gwamuri (MSE) and Ankit Vora (ECE) co-authored a paper with Durdu Guney (ECE), Paul Bergstrom (ECE) , Anand Kulkarni (ECE) and Joshua Pearce (MSE/ECE); Limitations of Ultra-Thin Transparent Conducting Oxides for Integration into Plasmonic-Enhanced Thin Film Solar Photovoltaic Devices, in Materials for Renewable and Sustainable Energy.
Technology Century, a science and technology news website published by the Engineering Society of Detroit, reported on a visit by ESD executives to Michigan Tech and plans to establish a student chapter of the ESD at Michigan Tech.
Student Tayler Sly (Computer Engineering) shows off a circuit board and some of his co-op work at Extreme Engineering Solutions in an on-line article published by Corp Magazine. Corp also published an article on the future of the high-tech jobs market in Michigan, quoting Jim Baker, executive director of Innovation and Industry Engagement, and Steve Patchin, director of Career Services. The article also features several photos of Michigan Tech students and interns.
Joshua Pearce (MSE/ECE) was the keynote speaker for the Shared Resource Laboratories: Driving Innovation and Discovery joint Mid-Atlantic Directors and Staff of Scientific Cores (MAD SSCi) and Southeastern Association of Shared Resources (SEASR) meeting in Charlottesville at the University of Virginia. Pearce was also quoted in "5 upcoming developments in 3D printing" in the Business Reporter distributed with the Daily Telegraph (UK). Pearce and MSE PhD student Amberlee Haselhuhn coauthored "Intellectual Property as a Strategic National Industrial Weapon: the Case of 3D Printing." in the May-August issue of Engineer: the Professional Bulletin of Army Engineers. Read the article.
Joshua Pearce, (MSE/ECE) is quoted in the article "Money-Smart Reasons to Install Solar Panels at Your Home Now," on Kiplinger.com and in the August 2015 edition of Kiplinger's Personal Finance. Pearce's research on low-cost heat exchanger technology was featured in the Mumbai Mirror (daily circulation of about 700,000).