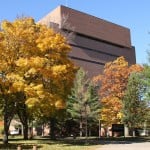 Graduate students Tony Pinar (ECE) and Bas Wijnen (MSE) collaborated with Jerry Anzalone (MSE), Tim Havens(ECE), Paul Sanders (MSE) and Joshua. Pearce (MSE) on a paper titled: Low-cost Open-Source Voltage and Current Monitor for Gas Metal Arc Weld 3-D Printing published in the Journal of Sensors.
Joshua Pearce (MSE/ECE) is quoted on the performance of solar in the Richmond Times Dispatch and Tulsa World.
The Pearce group solar-powered 3-D printers made the Tech.Mic top 6 list for Here Are the Big Ways 3-D Printing Is Creating the Future of Renewable Energy. 3D Printing Industry reports that copies of Pearce's book The Open Source Lab are prizes inthe Second Great Big Gigabot Giveaway.
The Physical Review Letter paper underlying the perfect lens research of Durdu Guney (ECE) ranked in the top 5 percent of all articles scored by Altmetric, received "high score" compared to articles of the same age (96th percentile) and is listed as the second top trending article on Physical Review Letters in the month it's published.
The research received media coverage in R&D Magazine, Technology.Org, Nanowerk, Phys.Org, Newswise, among others and was picked up by NSF's website.
Graduate students Kunal Shah (ECE) and Conway Fellow Aishwarya Mundada (ECE) co-authored a paper with Joshua Pearce (MSE/ECE), "Performance of U.S. Hybrid Distributed Energy Systems: Solar Photovoltaic, Battery and Combined Heat and Power" published in the journal Energy Conversion and Management.
Tim Havens (ECE/CS) presented two papers at the IEEE Int. Conference on Fuzzy Systems in Istanbul, Turkey. The first paper was entitled, "Feature and Decision Level Fusion Using Multiple Kernel Learning and Fuzzy Integrals," authored by ECE PhD student Anthony Pinar and coauthored by Havens and Derek Anderson and Lequn Hu from Mississippi State University. The second paper was authored by Titilope Adeyeba (Miss. State), Anderson and Havens, entitled, "Insights and Characterization of L1-Norm Based Sparsity Learning of a Lexicographically Encoded Capacity Vector for the Choquet Integral." Havens also served as an Area Chair and Session Chair at the conference.
Several news outlets, including Chem Europe and Hackaday, have picked up a recent story about Joshua Pearce and NECi collaborating on developing an open source nitrate test kit.