The Michigan Tech Archives has opened the Nissila Livery and Greenhouse Collection for research.  The collection, accession # 08-083A, comprises three cubic feet of documents, correspondence, and photographs. The materials were donated by Pete Nissila in 2009, following the closure of the family's greenhouse and nursery business in Ripley, just east of Hancock.
Originally called Nissila & Makela Livery and later as the Scott Street Livery, the business began as a livery stable, providing horses and carriages to individuals, companies, and for funeral services.  It was located on Scott Street in Hancock. 
Eventually, the business evolved into a floral shop.  After returning from service in Europe during WWII, Carl Nissila took over the shop along with his wife Gertrude.  He attended Michigan State University from 1948-1950, earning a degree in horticulture.  The floral shop started in the home on Scott Street and later moved to a location on Quincy Street, where it remained until 1952, when the business moved again to Ripley.  The location in Ripley had been in place since the early part of the century, originally being home to a local competitor, Dale's Greenhouse. 
In 1984, Carl and Gertrude retired, and Carl's son Pete and his wife Jill took over the business.  Pete was a recipient of a master's degree in horticulture from Oregon State University in Corvallis.  Locally, during his management of the greenhouse he hosted a weekly radio show on WZRK-FM and offered gardening classes.  The business remained active until 2008, at which time the property went up for sale. 
This collection was processed by Autumn Hall-Tun, a graduate student intern in the Archives during the summer of 2009.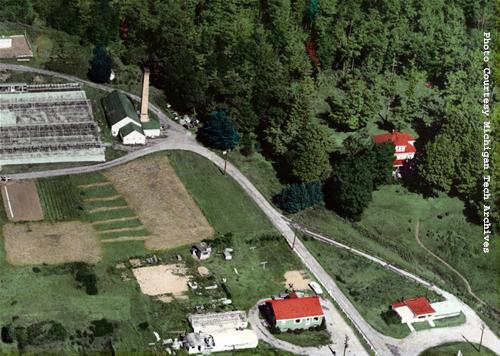 Aerial view of Nissila Greenhouse and surrounding buildings east of Ripley.  The photograph is image #ACC-08-083A-Pt 2  (you can view the record by clicking this link: http://digarch.lib.mtu.edu/showbib.aspx?bib_id=681606).