Join local historian Bill Haller for an illustrated talk on the history of the Isle Royale Mining Company near Hurontown.  The presentation will take place at 7:00pm on Tuesday, July 21, 2009, in room 641 of the Dow Environmental Engineering Building on the Michigan Tech campus.  This event is part of the Archival Speakers Series and is free and open to the public.
Following unsuccessful attempts at mining in Copper Harbor and on the island of Isle Royale, the Isle Royale Mining Company relocated south of Houghton in 1852. It was one of many small mines working the "South Portage Range," including the Portage, Dodge, and Huron mines. Some of these companies also developed communities around their mines, including the present towns of Dodgeville and Hurontown.
By 1909, the properties were consolidated into the Isle Royale Copper Company, a subsidiary of the famed Calumet & Hecla Company.  C&H operated the properties profitably for many decades and built a short line railroad to carry copper ore to a stamp mill near the mouth of the Pilgrim River. Remnants of this mill include extensive deposits of stamp sands. The mining properties continued in operation by C&H until 1946, with some later work attempted by the Copper Range Company.  
Haller's presentation will provide an overview of the evolution of this important mining area, including photographs and maps showing the different mine locations, industrial buildings, and underground workings.  Although few significant structures remain from the Isle Royale Mine, many of the operation's key sites lay adjacent to major highways and are passed unknowingly by local residents every day.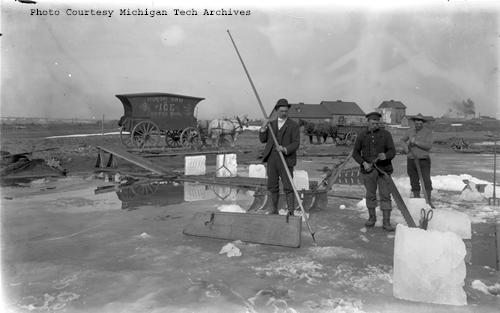 Employees of the Meyers Bros Ice Company cut ice from the Huron Dam area south of Houghton. The lake formed by Huron dam once provided water to the copper stamp mill of the Huron Mining Company (note the former mill buildings in the background being used for ice storage). The story of the Huron, Dodge and Isle Royale mines will be told by local historian Bill Haller on July 21. The photograph above is image #MTU Neg 00221  (you can view the record by clicking this link: http://digarch.lib.mtu.edu/showbib.aspx?bib_id=596955).
Michigan Tech's Archival Speakers Series highlights current research utilizing the Archives' collections. The department hosts a wide variety of researchers and research topics — everything from genealogical investigations to book and magazine publications — engaging students, staff, and faculty, as well as local citizens and other off-campus researchers. The presentation is free and open to the public.  
For further information contact the MTU Archives at 906-487-2505 or via e-mail at copper@mtu.eduThe Archives reading room is located on the ground floor of the Van Pelt and Opie Library, in the heart of the Michigan Tech Campus.
UPDATE:
More than 125 attended the event in Room 641 of the Dow Building on the Michigan Tech Campus.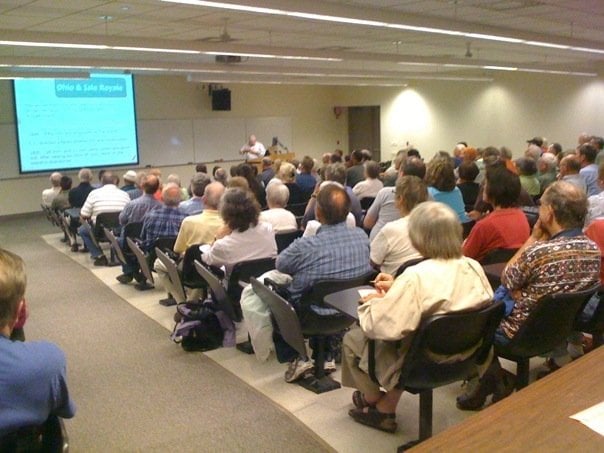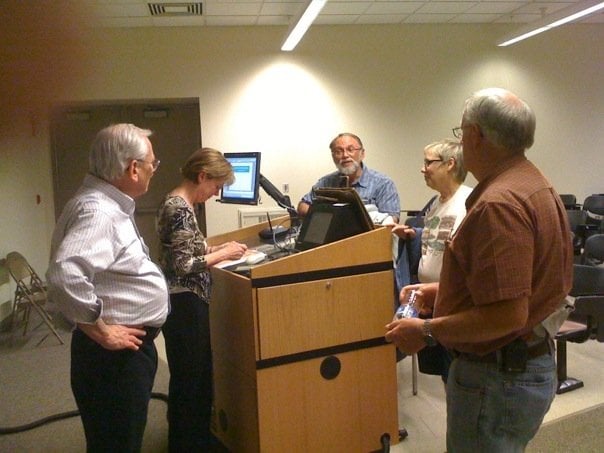 Local historian Bill Haller (left) speaks with attendees following his presentation.