Part of my summer internship here at the Michigan Tech Archives has been processing the Grace United Methodist Church records.  'Processing'  generally entails inventorying a collection, organizing it, and writing a finding aid that provides an overview of the contents.  Usually a finding aid will also give a brief history or background of the people or organizations that created the material.  Processing the Grace United Methodist Church records involved all of the above, and since the collection was about 25 linear feet (archives-speak for 25 boxes) it was no small project.
The most difficult step proved to be thinking of a way to arrange the material, but with a little advice from my mentors Erik Nordberg and Beth Russell I was able to come up with an organization that will be easy for researchers to use and understand. For example, sacramental records (birth, marriage, death, etc.) are located at the beginning of the Grace United Methodist Church records, as they are likely to be used most by genealogists and other researchers interested in the collection.  While the sacramental records only made up a small portion of the collection, Grace United Methodist Church is the oldest standing church in Houghton, MI and these are some of the oldest records in the collection, dating back to the mid 19th century.
Many finding aids also include portions that provide a background on the people or organizations that created the collection.  For the Grace United Methodist Church records I wrote a brief organizational history, which proved to be a fairly simple  task thanks to the efforts of Terry Reynolds, a retired history professor at MTU and a member of the church.   Reynolds completed a comprehensive history of Grace United Methodist Church in 2004, so after inventorying the collection it was easy to emphasize major events and include others that were present in the records.  In many ways, the history of Grace reflects the history of the Copper Country as a whole, which made writing the organizational history an enjoyable part of this project.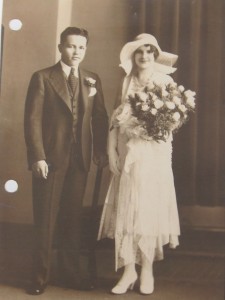 Here is the finding aid (as it appeared on November 22, 2011):  MS-866 Grace United Methodist Church Records  It is probable that additions will be made to this collection in the future; researchers should contact Archives staff to seek subsequent updated versions of this document.
Some photographs of the collection, rehoused in dark grey acid-free archival boxes.