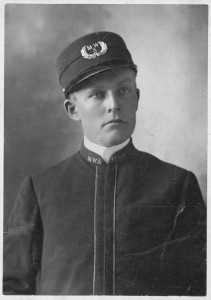 "People, Place and Time: Michigan's Copper Country Through the Lens of J.W. Nara," a traveling exhibit created by the Michigan Tech Archives, has moved to the Marquette Regional History Museum located at 145 W. Spring Street in Marquette, Michigan. The exhibit explores the life and times of Calumet photographer J.W. Nara and will be open to the public from January 13, 2012 to February 11, 2012, during the museum's normal hours Monday-Friday 10:00 a.m. to 5:00 p.m. and Saturdays 10:00 a.m. to 3:00 p.m. In addition, the museum remains open until 8:00 p.m. on Wednesday evenings.
The museum will host a public program at 7:00 p.m. on Wednesday, January 25 in conjunction with the exhibit installation. Erik Nordberg, University Archivist at Michigan Technological University, will give an illustrated presentation, "Michigan's Copper Country Through the Lens of J.W. Nara." The presentation features dozens of historical photographs of the Keweenaw and explores themes of commercial photography, family, and recreation that are depicted in Nara's photography.
John William Nara was born in Finland in 1874. He later immigrated to the United States and established a photographic studio in Calumet, Michigan, in the heart of America's most productive copper mining region. Nara succeeded as one of the Keweenaw's first and most successful commercial photographers, producing thousands of portraits of area residents. In addition to posed studio portraits, J. W. Nara toured the region, documenting the people, place, and time he experienced in Michigan's Keweenaw Peninsula. Copper mining and industry are an important part of the story, but Nara also captured the area's rural landscape, including local farms, shorelines, lighthouses, and pastoral back roads. 
The traveling exhibit, funded in part by descendants Robert and Ruth Nara of Bootjack Michigan, works from historical photographs held at the Michigan Tech Archives. Interpretive panels highlight the people, places, and times that J.W. Nara experienced during his lifetime and include material on urban life, farming, and the 1913 Michigan copper miners' strike. A small exhibit catalog is available at no charge and includes three Nara photograph postcards from the collection. 
The exhibit will remain on display at the Marquette Regional History Museum through February 11. For more information on the exhibit, contact the Michigan Tech Archives at 906-487-2505 or via e-mail at copper@mtu.edu or the Marquette Regional History Museum 906-226-3571.
Photos from the exhibit, which included a wonderful array of historical artifacts from the collections of the Marquette Regional History Museum and items on loan from Jack Deo at Superior View studios: