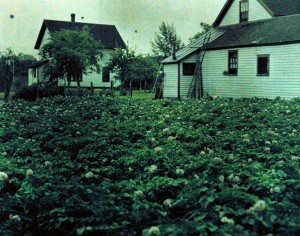 Presentation by Erik Nordberg
Michigan Tech Archives
Wednesday, April 25, 6:30 – 8:00 pm
Calumet Public Library
Open to the public/Refreshments served
The Great Depression caused widespread distress in the mining and timber communities of the Upper Peninsula. Unemployment skyrocketed and the short growing seasons and cold winters squeezed the people's ability to survive. While many are familiar with Roosevelt's New Deal programs like the CCC and WPA, many don't realize it also transformed Houghton County into one of the nation's most productive potato-producing regions. 
Illustrated with dozens of historical photographs, Nordberg's presentation will chart the transformation of the county into one of the nation's premier potato-growing regions during the 1930s and 1940s. At its height, more than 300,000 bushels of potatoes were exported from Houghton County, utilizing a community of growers, numerous potato warehouses and a niche market for high-quality table stock potatoes in midwestern cities.
This event is sponsored by the Friends of the Calumet Public Library.
For more information, visit the library or call 337-0311 ext 1107
(In case of bad weather, when school is cancelled, all library programs are cancelled.)