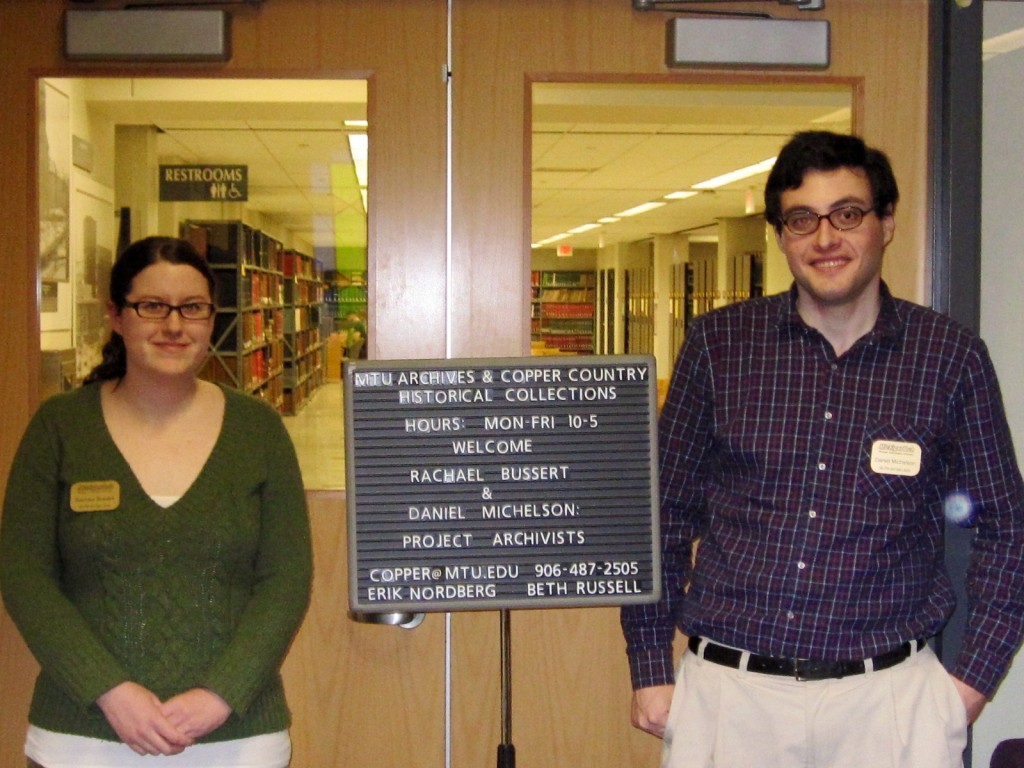 The Michigan Tech Archives is pleased to have two archivists join our regular staff. Senior project archivist Rachael Bussert and processing archivist Daniel Michelson began work on a grant-funded project March 12, 2012 which will keep them at the Michigan Tech Archives through the end of 2013. 
Funded by the National Historical Records and Publications Commission, the two-year project will target 92 manuscript collections for archival processing and description.  Information about the project is online here.
Rachael Bussert earned a B.A. in history from The Ohio State University and an M.A. in public history from Wright State University, where she also completed graduate coursework in archives management. Previous to Michigan Tech, Bussert was employed by Northern Michigan University and completed a project to digitize records of the Cleveland-Cliffs Iron Company and was also involved in a pilot project to manage local government records in digital formats. While completing her graduate degree she also completed archival internships with the University of Dayton, the Ohio Historical Center, and the Beavercreek Historical Society.
Dan Michelson earned a B.A. in history and education at Hampshire College in Amherst, Massachusetts, and an M.A. in archives and public history from New York University, which included graduate archival coursework. During his graduate studies, Dan completed internships at National Archives in both Boston and New York, as well as the American Jewish Historical Society.  His most recent work was as a graduate assistant at the Tamiment Library and the Robert F. Wagner Labor Archives at New York University.
Their arrival coincided with warming temperatures in the Keweenaw. We haven't told them about the snow yet…