The  speakers for "Retrospection & Respect: The 1913-1914 Mining/Labor Strike Symposium of 2014" have been announced!  FinnForum X speakers will be added soon.

Full conference registration is $30.00 and includes Friday reception and Saturday sessions for both the 1913-1914 Mining/ Labor Strike and FinnForum X concurrent sessions, and includes breakfast and lunch. Keynote dinner reservations must be made separately.
Registration opens February 15, 2014 at Registration, 906-487-2505, or copper@mtu.edu. The full conference registration deadline is April 9, 2014. Walk-in registrations are welcome, but meals tickets will not be available.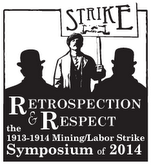 The following topics will be covered:
John Beck Co-director, Our Daily Work/Our Daily Lives, Associate Professor, Labor Education Program, School of Human Resources and Labor Relations, Michigan State University, East Lansing, MI :
"Father Dietz, the Catholic Church and the 1913 Michigan Copper Strike"
Roger Burt, Professor Emeritus, History Department, College of Humanities, University of Exeter, Devon, UK :
"The role of fraternal organisation in migration and informal Labour organisations in mining communities: Cornwall, the Keweenaw and California Compared"
Peter Kratz, Professor, History Department, University of Western Ontario, London, Canada :
Mainari, Farmari, Lumperjäkki, Piika : "Ethnic Identity" and Earning a Living in the Keweenaw and Nickel Belts to 1930″
Paul Lubotina, Assistant Professor, Middle Tennessee State University, Murfreesboro, TN :
"Teofilo Petriella: Marxist Revolutionary"
Thomas Mackaman, Assistant Professor of History, King's College, Wilkes-Barre, PA :
"Our lives, our thoughts and our allegiance : New immigrants and American industry in 1914″
Alice Margerum, Houghton, MI :
"Beneath the Starry Flag: the Flags and Songs of the 1913-14 Michigan Copper Strike as Image-making in the American Labor Movement"
Erik Nordberg, Executive Director, Michigan Humanities Council, Lansing, MI :
"Company Houses along the Picket Line"
Brendan Pelto, Student, Michigan Technological University, Houghton, MI :
"The 1968-1969 Copper Strike"
Patrick Allan Pospisek, Department of History, Grand Valley State University, Allendale, MI :
"Federal Authority and the Development of Corporate Mining, 1807-1847"
Ryan Tate, PhD student, Rutgers University, New Brunswick, NJ :
"Flash in the Pan: Cross-Class Cooperation in 1916 Iron Range Strike"
Joanne Thomas, Allouez, MI :
"100 Years to Red Jacket – and Annie : An Extraordinary Mass"