The following letter, discovered in MS-080, Copper Range Company Records, shows the close connection between the copper mining companies and local government.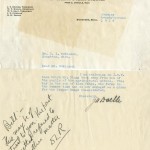 Unfortunately, the I. W. W. book was not included with the letter. The context for this letter (given below), derived from various sources in the Michigan Tech Archives, demonstrates the value of having an array of different sources at the same research facility.
D. L. Robinson: Member of the prominent law firm Rees, Robinson, and Petermann.
I. W. W.: The Industrial Workers of the World were a radical left labor union that was, at the time of this letter, growing in strength across the United States.
Mr. Slagg: Milo J. Slagg was the principal of the agricultural school from 1915 to 1919.
Agricultural School: The Otter Lake Agricultural School in Tapiola (renamed the John A. Doelle Agricultural School in 1922).
Alex Pohja: Probably the same person as the Alex Ponja listed by the 1916-1917 Polk directory as a resident of Trimountain and laborer in the Trimountain Mine.
John A. Doelle: Longtime superintendent of the Houghton and Portage Lake public schools.
Bill: William H. Schacht, the new general manager of the Copper Range Company and Alex Pohja's boss.
We don't know if Schacht took any action on this matter, but it is easy to see the potential risks of expressing radical opinions if your job could be threatened by the actions of your child.
This project is supported with a grant from the National Historical Publications & Records Commission.