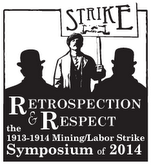 The University Archives and Copper Country Historical Collections has selected nine recipients for the 2014 Symposium Travel Award. These grant recipients will be among the many scholars and researchers participating in "Retrospection & Respect: Michigan's 1913-1914 Mining/Labor Strike Symposium," to be held in Houghton, Michigan, April 11-12, 2014, on the occasion of the centennial of the cessation of the 1913-1914 Western Federation of Miners labor strike against copper mining companies in the Copper Country of Upper Michigan.
John Beck, from Michigan State University, will explore Father Dietz and the Catholic Church within the history of the 1913-1914 Copper Miners' Strike.  Thomas Mackaman, from Kings' College (PA), will look at new immigrants and American industry in 1914 and Erik Nordberg, from the Michigan Humanities Council and formerly Michigan Tech's University Archivist, will present a paper on company houses along the picket line.
Roger Burt, from the University of Devon (UK) will present on the role of fraternal organizations in mining communities.  Peter Krats, from Western University (Ontario), will explore ethnic identity in the Keweenaw and Nickel Belts to 1930.  Peter Lubotina, from Middle Tennessee State University will profile Teofilo Petriella, a Marxist revolutionary.
Shannon Rebecca Kirkwood, from Central Michigan University, will explore gender and feminine strategies in the 1913 copper strike.  Patrick Allan Pospisek, from Grand Valley State University, will present on federal authority and the development of corporate mining from 1807-1847 and Ryan Driskell Tate, from Rutgers University, will present on cross-class cooperation in the 1916 Iron Range strike.
"]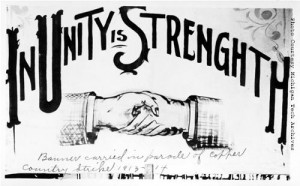 Funded by the Friends of the Van Pelt Library since its inception over 10 years ago, the grant has enabled more than 20 researchers to travel to Houghton from the United States, Canada, and Europe, to examine the unique social and cultural resources in the Archives collections. Past grant recipients have studied a wide variety of topics, such as the use of images and models by mining engineers to manage complex work sites above and below ground; the role that fraternal orders have played in Lake Superior mining communities; and the adoption of the English language by European transplants to Michigan's Copper Country. This year, the Friends of the Library provided generous support for competitive travel awards for the symposium.
The award committee included Larry Lankton, Professor Emeritus from the Michigan Tech's Department of Social Sciences, Susan Martin, Professor Emerita from the Department of Social Sciences, Don Durfee, Friends of the Van Pelt Library and Social Sciences, and Beth Russell, University Archives. For further information about the awards program or about the collections of the University Archives: 906- 487-2505; www.mtu.edu/library/archives/ or copper@mtu.edu