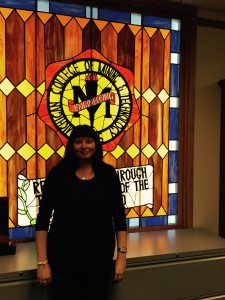 On behalf of the Michigan Technological University Archives and Copper Country Historical Collections, in partnership with the Friends of the Van Pelt Library, we hope you will help us welcome our new graduate intern for summer 2015. Alison Fukuchi was selected as the Friends of the Van Pelt Library Graduate Intern after a competitive national call for applicants. While in Houghton, Alison will be assisting with public service and behind-the-scenes tours in the Michigan Tech Archives, particularly during the busy summer research season. She will also arrange and describe a recent acquisition of research and administrative files from a Michigan Tech faculty member who did extensive research on the health of Torch Lake. Other duties will involve arranging and describing several smaller acquisitions of various topics, including the creation of original finding aids. We are very excited to have Alison on board. Below, please take a moment to get to know Alison as she introduces herself in her own words.
———————
My name is Alison Fukuchi, and I am extremely fortunate to have been selected as the Friends of the Van Pelt Library Graduate Intern for summer 2015. It was a circuitous path that brought me to Michigan Tech and the archives profession; my first passion was for Japanese language and culture which led to a BA in Japanese Language and Literature from the University of Georgia. Eager to immerse myself in all things Japanese, I moved to Tokyo, Japan where I taught English as a Foreign Language for several years before pursuing an MA in Teaching English as a Second Language at Hawaii Pacific University. After five years of surf and sun in Hawaii, Chicago became my home while I advanced as an ESL educator. Despite enjoying career success as a teacher, I still found myself rather unfulfilled professionally. Extensive research (and many interesting, but slightly ridiculous personality and career quizzes) revealed an enthusiasm and aptitude for library work, especially the preservation and conservation practices common to the archival profession. Currently, I am attending the San Jose State University distance program in Information Science with a specialization in Management, Preservation, and Digitization of Cultural Heritage and Records.
During my time at Michigan Tech, I am excited to learn more about the rich history of the Copper Country while gaining practical experience in archival work. The beautiful natural landscape is certainly a bonus as I enjoy hiking, kayaking, and swimming along with the more sedate pursuits of reading and watching soccer (Go Barcelona!). If you are so inclined, come say hello and check out the wonderful collections housed in the Michigan Tech Archives.
———————
For more information on the Friends of the Van Pelt Library Graduate Internship pilot program or to set up a time to say hello to our new intern, please call Lindsay Hiltunen at (906) 487-2505 or e-mail us at copper@mtu.edu.