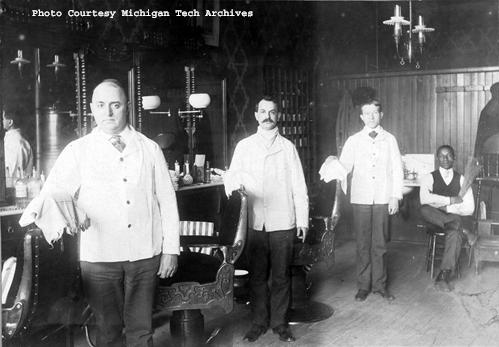 The Michigan Technological University Archives and Copper Country Historical Collections is currently seeking applicants for a temporary Project Assistant position to begin in September 2015. This position is part of a grant-funded research project called "Black Voices in the Copper Country: Exploring Community and Michigan Tech Campus Life, 1870-Present." The Michigan Tech Center for Diversity and Inclusion, the Carnegie Museum of the Keweenaw, and the Michigan Historical Center are partners on this project. This project is funded in part by the Michigan Humanities Council, an affiliate of the National Endowment for the Humanities.
The Project Assistant is responsible for researching archival collections, including manuscripts, census records, newspapers, photographs, and other materials to help document resources pertaining to African-Americans in the Copper Country. Secondary responsibilities include assisting with research planning, presenting in public forums, assisting with outreach, writing blog updates, and developing a historical narrative for a future online exhibit. Preference will be given to applicants with some college history coursework and demonstrated research experience.
Characteristic Duties and Responsibilities:
Efficiently and effectively provides in-depth historical research using a broad range of primary and secondary sources.
Assists with simple archival organization and descriptive work such as arranging historical papers in chronological order, re-foldering materials for preservation when necessary, creating indexes, drafting research guides, and shelving.
Assists with planning and executing public programs and outreach to present findings.
Performs other assigned duties as appropriate for a project assistant.
This is a 20 hour per week, temporary part-time position. This position will report to the Senior Archivist. The preferred start date is Monday, September 14 and the project ends in May 2016. There are no benefits included with this position. The Project Assistant will be compensated with an hourly wage of $10.00 per hour. To learn more about us, please visit our website: http://www.mtu.edu/library/archives/
E-mail applications are preferred and are due by August 21. Submit your cover letter and resume to:
Lindsay Hiltunen, Senior Archivist
Michigan Technological University Archives and Copper Country Historical Collections
Attn: Project Assistant Position
Van Pelt and Opie Library
1400 Townsend Drive
Houghton, MI 49931
copper@mtu.edu
(906) 487-2505
Michigan Technological University is an Equal Opportunity Educational Institution/Equal Opportunity Employer, which includes providing equal opportunity for protected veterans and individuals with disabilities.